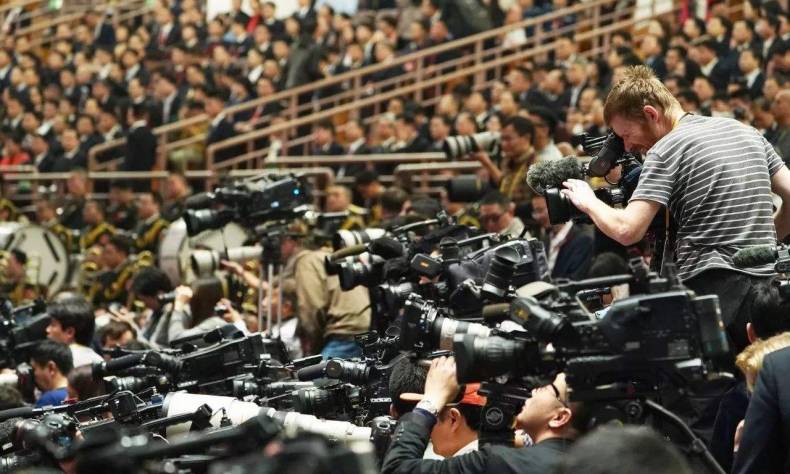 Overseas Media Review Xi's Report to the 19th CPC National Congress
The 19th National Congress of the CPC receives huge attention from the media around the world. Many of them took great interest in Xi's speech.
Xi Jinping, CPC General Secretary, delivered his work report to the 19th CPC National Congress in Beijing, Oct 18, declaring socialism with Chinese characteristics has crossed the threshold into a new era. The congress is the country's most important political meeting in five years.
The ongoing five-yearly event receives huge attention from the media around the world. Many of them took great interest in Xi's speech, which ran to more than three hours.
Of particular interest were topics such as economic development in the "new era", China's diplomatic strategy, the military, "one country two systems", and the environment.
The following is a summary of some of the reporting.
Economic Development
China's economy has been transiting from a phase of rapid growth to a stage of high-quality development.
In the report, Xi said that "the principal contradiction facing Chinese society has evolved. What we now face is the contradiction between unbalanced and inadequate development and the people's ever-growing needs for a better life" a change from previously, "the principal contradiction in Chinese society is one between the ever-growing material and cultural needs of the people and the low level of production." (This statement had been in place since 1981.)
Barron's interviewed Yu Song, MK Tang and Zhennan Li, China economist of Goldman Sachs, and they also referred to this change.
They viewed this change in "principal contradiction" as an acknowledgement of the need for more efficient and balanced economic development.
They also noted that instead of purely focusing on the speed of economic growth, policy makers now also emphasize higher productivity, higher profitability, more innovation, and efficient distribution, as well as balanced development between urban and rural areas, and among different regions of the country.
Diplomacy with Chinese Characteristics
Major steps have been taken in diplomacy. Secretary General Xi Jinping introduced China's diplomatic strategy in his speech.
Sputnik quoted from Xi 's speech "China's development does not pose a threat to any other country. No matter what stage of development it reaches, China will never seek hegemony or engage in expansion."
Straits Times noted that China has made all-round efforts in developing major country diplomacy with Chinese characteristics, and that China will increase its assistance to the world's least developed countries.
They also acknowledged that China's international stature has risen. President Xi was in Davos in January to defend globalization, and in June Beijing reaffirmed its commitment to the Paris accord on climate change.
Manila Times reported that Xi cited sluggish economic growth as one of the common challenges being face by all nations and said "No country can  alone address these many challenges facing mankind; no country can afford to retreat into self-isolation."
Strengthening the Army
"A military is built to fight," he said, stressing combat capability as the criterion to meet.
Emphasizing Xi's remarks on the armed forces, Sputnik quoted his declaration: "We will make it our mission to see that by 2035, the modernization of our national defense and our forces is basically complete."
They also noted the proposal to create "a modern combat system with distinctive Chinese characteristics".
"One Country, Two Systems" Policy
Sovereignty remains at the top of the agenda. The world is changing faster than it ever has before, but China's national sovereignty will outlast any such changes.
Sputnik focused on Xi's determination to stick to the principle of one China:  "We will never allow anyone, person, any organization, or any political party, at any time or in any form, to separate any part of Chinese territory from China."
The Chinese leader also added that the "one country, two systems" policy had proved to be the best institutional guarantee for the long-term prosperity and stability of Hong Kong and Macao.
Straits Times paid special attention to the anti-secession statement in Xi's report and published an article Any bid to split Taiwan from China will be defeated: Xi. They quoted Xi's speech "We have the resolve, the confidence, and the ability to defeat separatist attempts for "Taiwan independence" in any form."
Environmental Issues
President Xi Jinping has stated that a good ecological environment is the fairest public product, and the most accessible welfare for the people. He stressed the significance of ecological civilization in the report as well.
Environmental protection is a global issue. Xi's proposal attracted the attention from other countries'.
Guardian mentioned Xi's attention to ecological civilization. They reported that as part of making China great, Xi spent a lot of time tackling environmental issues and pledged to build a "beautiful China" with a clean environment, high tech companies and responsive government.
Bloomberg counted up how many times some words used in Xi's report. They reported that Xi used the word "environment" and other related terms 89 times . They think the results are emblematic of China's bid to pivot away from smokestack industries.
Huffington Post mentioned China would adopt a positive attitude to dealing with climate change. They quoted Xi's speech "Only by observing the laws of nature can mankind avoid costly blunders in its exploitation. Any harm we inflict on nature will eventually return to haunt us. This is a reality we have to face."
Source: Xinhua, China Daily