Ping-Pong Diplomacy Still Resonates 50 Years Later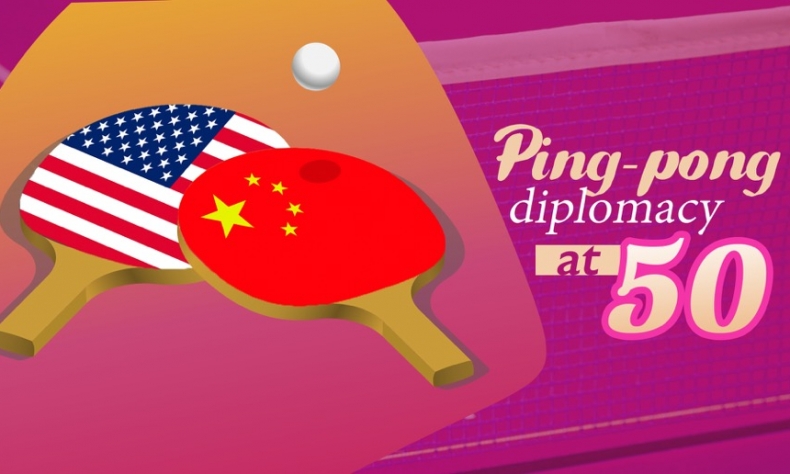 Ping-pong diplomacy may have been used in 1971 to help normalise ties between China and the United States, but its legacy is still just as relevant today as the two countries experience their most serious problems for three-decades.
Few sporting events are ever remembered for what happens off the pitch. But at the 1971 World Table Tennis Championship in Nagoya, Japan, the meeting of American table tennis player Glenn Cowan and his Chinese counterpart Zhuang Zedong did just that.
Half a century ago, in one of the most extraordinary events in sporting history, it was politics, not table tennis on show, with the accidental meeting of the two stars paving way for the reproachment of China and the United States, changing the course of modern history as we know it.
At the invitation of the Chinese table tennis team, the U.S. table tennis team arrived in China on April 10, 1971. It ushered in the resumption of people-to-people exchanges between the United States and the People's Republic of China, having severed ties in 1949.
Following the breakthrough of the US-China exchange, then US president Richard Nixon made a historic visit to China in February 1972, and seven years later the US and China finally normalised diplomatic relations.
It was a significant moment for both countries, and given this April was the 50th anniversary of the occasion, it seemed only right that it be remembered with great gusto and aplomb. Yet how both sides chose to mark the milestone could not have been more different.
In Beijing, a grand event was organised on April 22 by the Chinese People's Association for Friendship with Foreign Countries (CPAFFC) under the theme of "friendship first, competition second" – the same phrase in which Chinese Premier Zhou Enlai welcomed the US team in 1971.
Chinese Vice-President Wang Qishan delivered a speech via video link to the event, highlighting the significance of ping-pong diplomacy to China-US relations.
Noting that China-U.S. relations are now at a critical juncture, Wang said that China and the United States should strengthen cooperation as the two "stand to gain from cooperation and lose from confrontation", as well as focusing on promoting stable bilateral relations.
Dr. Henry Kissinger, who conducted an initial ice-breaking visit of his own to China five decades ago, spoke highly of the significance of the 50-year-old ping-pong diplomacy, claiming: "The significance of the event is that a number of little steps are sometimes needed to make great conclusions."
Former table tennis players from both sides who had taken part in that very game 50 years ago, including Li Furong, Liang Geliang, and Judy Hoarfrost, also attended the commemorative event, as did basketball superstars Yao Ming and Stephon Marbury.
In the US, however, things were rather more muted. No events, no comments by officials or ambassadors, not even an acknowledgment by the United States Embassy in China. It was as if there had been a media blackout placed around all mentions of the anniversary, perhaps a testament to the strikingly different tone the US now deals with China in.
Competition, not friendship
US relations with China are now a long way away from the "friendship first, competition second" mantra that helped pushed closer ties 50-years ago.
Competition, not friendship, now defines their relationship, having undergone a dramatic shift over the past four years. What started with former President Trump's policies to restrict academic, business and people-to-people exchanges between the two countries, has morphed into bipartisan support in the US for stronger action against an increasingly capable China.
Biden, now 100-days into his presidency, has so far shown no appetite to reverse course, rather using this cross-party support to intensify competition with China even further. The Strategic Competition Act 2021, which is currently motoring through the US Senate, may read like something from the Trump school of China-diplomacy but is in fact the signature piece of Biden's foreign policy with China, and which critics argue is severely anti-China in nature.
The bill now openly calls for the US to pursue "strategic competition" with China, shunning further opportunities for dialogue between the two countries, as well as squeezing business and political cooperation to their limits.
Sport, once such a powerful vehicle for cooperation between China and the US, has also become a casualty of the bill, with officials being encouraged, albeit not athletes, to boycott the Winter Olympic Games in Beijing next year.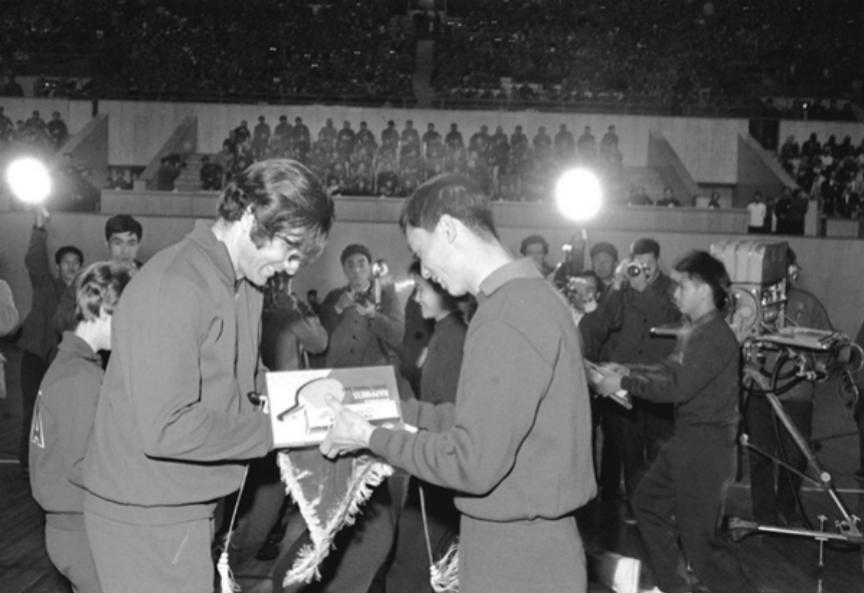 Path can still be reversed
The image of table tennis players Cowan and Zhuang holding a brocaded silk tapestry – offered as a humble token of friendship by Zhuang to Cowan – was one of the standout images from their 1971 meeting. Yet given the increasing hostility by the US towards China, prospects of something similar occurring at next year's Winter Olympics seems difficult to imagine.
Despite this, there is comfort to be had in knowing that this is not new territory for both countries. 50-years ago, relations between the two were in much greater peril than they are now – both sides were technically at war with each other having supported different sides during the Vietnam conflict.
Yet little by little, and over a period of time, things were able to improve. As Kissinger said, it is the "little steps" that can go on to have the greatest impact, and there are signs, despite this current period of intense tension, that those little steps of cooperation are still being made today.
The recent meeting between US Special Presidential Envoy for Climate John Kerry and China's special envoy on climate change Xie Zhenhua ended with both sides committing to greater cooperation on reducing climate change, a significant improvement on previous meetings.
In China, officials are looking into the prospect of recognizing US-made COVID-19 vaccines to help facilitate travel into China, while in early April, Chinese Premier Li Keqiang met with US business leaders in a virtual forum to assure them that China does not support further instability and "decoupling".
In the US, Biden has in recent days revoked a Trump-era order that would have forced electricity grid operators to stop using Chinese-made equipment, as well as announcing plans to ease travel restrictions on Chinese and other international students into the US this Autumn.
And despite the Strategic Competition Act's recommendations to shun the 2022 Winter Olympics, a statement made by the US State Department in early April stated that they "have not discussed and are not discussing" any boycott to the Olympics, making it more than likely that Chinese and US athletes will stand side-by-side in a years' time.
Ping-pong diplomacy 2.0
Such an image, set upon the freezing slopes of Beijing's Olympic Park, could act as another "little step" that injects warmth into China-US relations. Sport has that ability to strip away the politics and bring people together no matter creed, colour, or gender.
That was the secret of ping-pong diplomacy 50-years ago – when "a tiny ball moved the big ball" – looking beyond politics to bring two sides together who had never been further apart. Despite the tense situation China and the US find themselves in, the very fact such action is still being taken, shows cooperation is not yet dead, and that the legacy of ping-pong diplomacy still resonates half a century later.