Russian Ambassador Andrey Denisov: The Belt and Road Initiative Has Great Achievements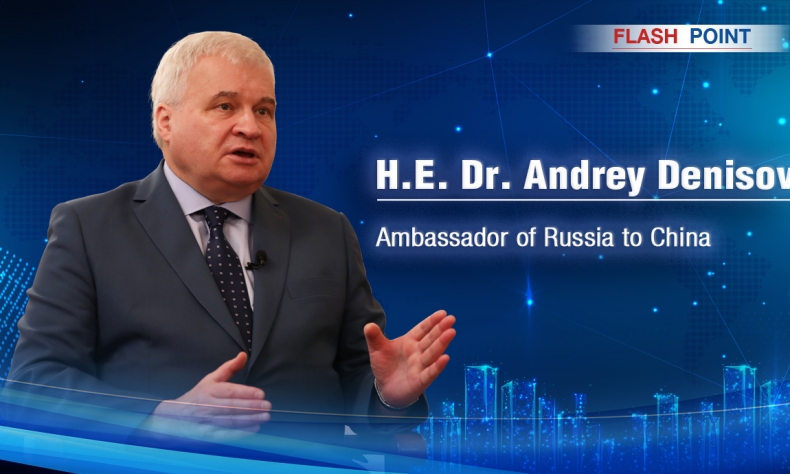 All countries can join the Belt and Road Initiative with their specific economic profile.
Editor's Note: H.E. Dr. Andrey Denisov, Ambassador Extraordinary and Plenipotentiary of the Russian Federation to the People's Republic of China, received an exclusive interview with Sun Chao, a scholar of international relations and author of the book Ambassadors' Views on the Belt and Road Initiative. In the interview, Mr. Ambassador shared his views on Russia-China relations and the Belt and Road Initiative. Authorized by Ms. Sun Chao, China Focus publishes essence excerpts from the interview as following.
Sun Chao: The Belt and Road Initiative has drawn world attention for its opportunities of mutual benefits and common development. Russia has also announced to facilitate the docking between the Belt and Road Initiative and the Eurasian Economic Union. What do you think about the cooperation between China and Russia in this respect?
Ambassador Andrey Denisov: I remember on September 7, 2013, President Xi Jinping made a speech at a university in Astana, Kazakhstan's capital, where he first offered the Initiative. The Silk Road Economic Belt was the title. If you look at the spreading of the Initiative over the world, then you will see that is a very short time, but with great achievements.
First, it is an open initiative. It is not some kind of closed club or bloc of countries, where there are seniors and juniors. It is like a family. If you want to be with us, welcome. So within very short time, the number of countries that enlisted in the Initiative is more than 120. It came clear that we need to coordinate. I mean all the member states need to coordinate, to exchange the views on how to develop the Initiative jointly. That is why China convened conferences to discuss the Belt and Road Initiative's projects on a higher level. That is the first and second Belt and Road Forum.
Secondly, the Belt and Road is a rich and broad initiative. It is not just putting rails, but setting up factories, enterprises, introducing high technology and new branch of industry around the infrastructure routes, like railway routes, or roads, or harbors. That boosts the comprehensive development, not just infrastructure building.
I don't think the background of the international trade is so positive, such as protectionism and trade quarrels. For my country, maybe we are not directly in such kind of conflicts. But the outcomes of these conflicts are very negative. Strong trade policies in some countries have a lot of bad consequences.
The global economy is interconnected. For example, Russia is an important exporter of natural resources like oil and gas. If other countries' economies are dynamic and have the high growth rate, they will need more fuel, more energy and more resources. If not, then how should we deal with our oil and gas? We cannot just put it on the bread like butter.
When the United States applies some sanctions and measures against China in high technology and other areas, the outcome is confusing the US itself, because the US companies are being engaged in transnational joint projects to produce the new technological products. As a Chinese saying goes, it will be himself that poisons the fruits produced by him.
Against the background, we need more positive and integrated initiatives. For example, my country, as a member of Eurasian Economic Union, suggested that we should not just cooperate with China within the Belt and Road Initiative, but set up some kinds of connection, or docking the programs and plans of the economic development within the Eurasian Economic Union and Belt and Road Initiative.
In a word, all countries can join the Belt and Road Initiative with their specific economic profile.
Sun Chao: Thank you for your deep understanding on the Belt and Road Initiative. As you mentioned, the Belt and Road is about establishing and strengthening partnerships. It is about policy coordination, facilities connectivity, free trade flows, financial integration and people-to-people bonds. People-to-people bonds are also an important component. However, countries are different from each other. So how to better bring people from different positions together?
Ambassador Andrey Denisov: There is only one way to keep closer that is exchanging views and discussing. I think we don't know other ways of the interaction or communication that can better boost global community building.
If we want to elaborate decisions or initiatives, we need somebody on the top to encourage us and to say "yes, you're right" and make decision according to his advice and recommendations. Policy makers should not just know what to do today but think about what happens tomorrow. We need input from experts, academics, think tanks, and government and suggestions from different levels before we can put it into practice. The final act is more like a big mountain. "The peak is high above but we need to climb".
Now we need compound talents. In Russia, it is better if experts on modern agriculture or medicine can speak Chinese. In your country, talents who can speak English or Russian are also very helpful. For example, traditional Chinese medicine is more and more widely spread. More and more young Russian students of medical students come to China. They want to study modern medicine and traditional Chinese medicine.
We need to add the Belt and Road economic construction with its cultural, educational and humanitarian area as a whole. I think it is very important. We can cooperate with people from different nations, speaking different languages and having different mentalities.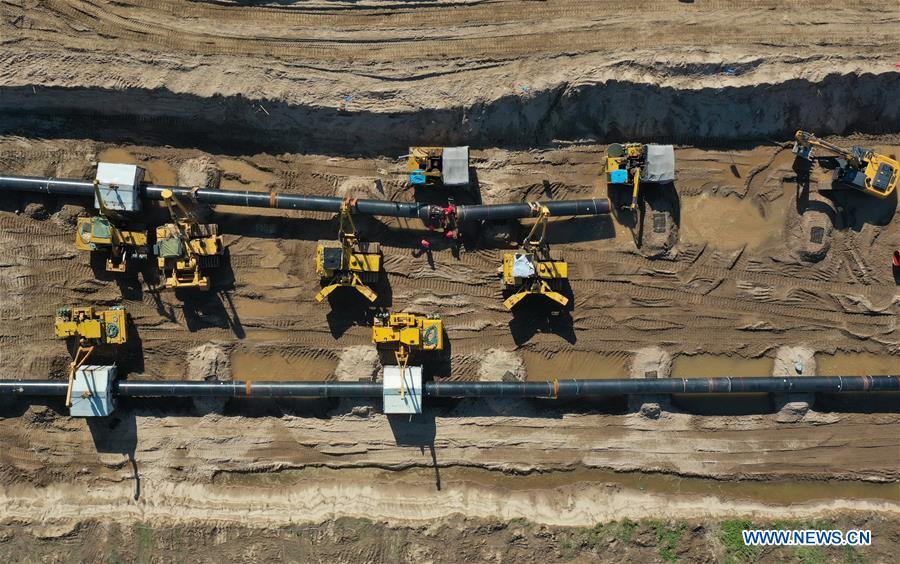 Sun Chao: Russia is the first country to establish diplomatic relations with the People's Republic of China. The profound friendship between China and Russia is an excellent model for the whole world. How to further improve our friendship?
Ambassador Andrey Denisov: In 1949, we had a Consul General of the Soviet Union here in Beijing. His name was Mr. Tikhvinsky, and his Chinese name is Qi Hewen. He later turned out the top-ranking academician and had award Chair of Sinology of the Soviet Academy of Sciences (now Russian Academy of Sciences).
On October 1, 1949, Chairman Mao Zedong declared the founding of People's Republic of China and informed all of the countries that new China was ready to establish diplomatic relations with other countries. Mr. Qi Hewen took that announcement and immediately sent it as a very urgent message to Moscow, to the Minister of Foreign Affairs, with his own recommendation "I think that we need to announce as soon as possible that we recognize People's Republic of China, and we are ready to set up diplomatic relations." And the next day, October 2, the cable came here from Moscow that Moscow was ready to recognize and to establish diplomatic relationship. Russia was the first country to establish diplomatic relations with new China.
Since that time we cooperate in different areas. Former Soviet Union actors, performers, artists, directors, conductors, musicians, and dancers came to China and vice versa. A famous Chinese actor of Peking opera, Mr. Mei Lanfang, visited Moscow and received warm welcome by the Russian people. The reaction of them from theaters was very strong. It was something absolutely new. It helped us to combine some specific points of traditional art and modern art. Now, we see it both in theaters here and my country.
Then after 1950s, it was a period of not so close relationship due to some political and ideological reasons. When I came here for the second time in 1978, political relationship was still not so active. But I was attached to the trade office and we worked actively. I had unique chances to visit some cities. My first arrival to Shanghai was in 1980. We lived in the Peace Hotel on the Bund In the evening, I had a good chance to walk around alongside the Bund, then Nanjing Road and other places which are very familiar to us. It is one of my best periods in China.
At the end of 1980s, we had normalization of bilateral relations. When I arrived here in 1992, it was as if we came back to 1950s. We had a chance to resume cooperation in all areas, even such sensitive area, for example, nuclear energy. Our trade and economic cooperation developed very actively. In the mid 1990s, the trade turnover between our two countries reached five billion US dollars, both export and import. In 1996, then President of Russia Boris Yeltsin paid a state visit to China, and met with his counterpart Jiang Zemin. We prepared some material for the President Yeltsin, for example, the bilateral trade turnover reached US$5 billion, but we need to look forward and to work to raise it to US$10 billion. From five to ten was reported to President Yeltsin. Yeltsin took a pen and corrected it into twenty. We were shocked. How can we do it? It is impossible. But Yeltsin said, no, you have to work hard and reach that bar. The aim was to reach ten by 2000. In reality, we reached thirty. So it is one of the examples on how rapidly our economic cooperation was developing at that time. Now we have US$108 billion trade volume. In 2018, we passed over US$100 billion for the first time.
We need long term projects including those with good prospects in high technology, and new innovation areas. We need more cooperation in investment projects and long term projects, not just trade. We can use the results of such cooperation not only in your country, my country, but in other countries as well.
In the last two years, agricultural cooperation has increased greatly. We have much more commodities exported from my country to China. We have new investment projects in agricultural area in my country.
Besides, we cooperate in civil aviation. We try to build medium plane for civilians. Both Russia and China have high demand for such civilian planes or helicopters. We try to produce giant space flights and we will have good results.
Sun Chao: The energy projects including China-Russia eastern gas pipeline have promoted the bilateral relations to an unprecedentedly high level. What do you think about the on-going energy cooperation?
Ambassador Andrey Denisov: China needs fuel and energy. Initial gas is one of the best. The environment protection can be insured if you use natural gas instead of coal. Gas can be transported by pipes and ships and we have good ground for such kind of cooperation. We can just make deals on supply for a short time, but can build up long time cooperation.
It is one of the biggest investment deals in history because it is for several decades; it is a huge amount of natural gas and new formulas. Of course, we also have to actively face the issues of how to manage such kind of deals, how to plan such kind of cooperation, how to build it and how to arrange.
We have a new project of liquefied natural gas from Russian Arctic gas fields, and the initial results are also very optimistic and encouraging. That is why top Chinese companies are ready and eager to continue cooperation and to set up new projects for liquefied natural gas supplied from Russian Arctic zone to China.
China wants to diversify energy supply. We want to diversify energy delivery. That is where our interests coincide. That is why we are interested in a long-time, large-scale and mutually beneficial cooperation. But not only gas, we have the same in oil. Russia was a top exporter of oil on Chinese market. We keep that position for several years already and are ready and eager to keep it in the forthcoming years as well.
In 2019, President Xi Jinping and President Putin signed the statement on elevating bilateral ties to the comprehensive strategic partnership of coordination for a new era. The new era has two implications. First is in our bilateral relations because we have reached such a level that we have not just to go up, but go both left and right to make it more comprehensive, more coordinated, more modern, and more deeply rooted. This is the first. The second is that we witness great changes in the whole world and we have to adapt ourselves. We have to act according to the developments in international relations.