Trump's Neo-Isolationism and the Future of Sino-U.S. Relations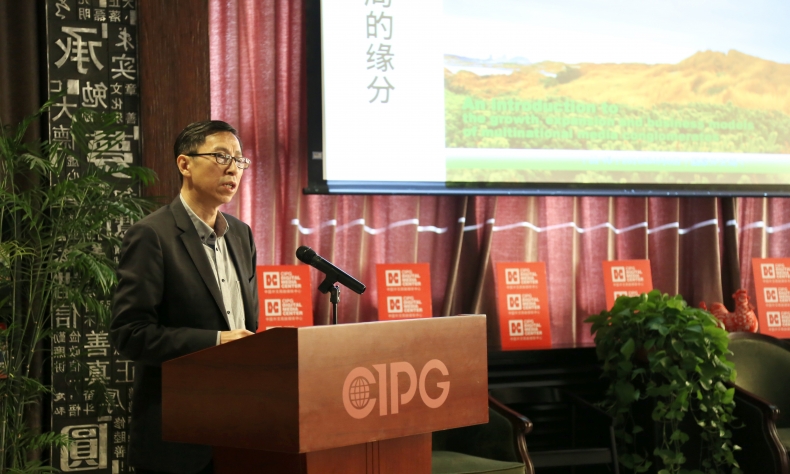 Describing a foreign policy as "isolationist" usually carries a derogatory sense. However, according to my studies in American history, isolationism, as I see it, has been part of the core of the United States since its founding.
On November 7 in Beijing, Digital Media Center (DMC) of China International Publishing Group (CIPG) hosted a seminar: "a New Era – a New Direction of China-U.S. Relations". A number of senior experts and academics in Sino-U.S. diplomacy and economic and trade relations attended the seminar, and held in-depth discussions on several issues regarding the current relationship and future prospects for the two countries after the two leaders' meeting, focusing on "What is the impact on Sino-U.S. relations, and how will it influence the situation in the Asia-Pacific region and the wider world?"
Lv Xiang, senior research fellow of Center for China and Globalization (CCG) and an expert on US studies with the Chinese Academy of Social Sciences, delivered a keynote speech at the seminar and exchanged views with other experts on issues including Sino-U.S. diplomacy, trade and development.
Isolationism and De-isolationism in U.S. History
Isolationism usually involves a country adopting a policy of seclusion. To be more precise, it refers to a country which refuses to participate in international affairs, refuses to intervene in other countries' domestic affairs, and at the same time rejects any intervention in its own affairs. It will not start up a non-defensive war and will strive for economic self-sufficiency.
Describing a foreign policy as "isolationist" usually carries a derogatory sense. However, according to my studies in American history, isolationism, as I see it, has been part of the core of the United States since its founding.
The forefathers of the US, from George Washington to Thomas Jefferson, all considered international alliances an unreliable, unstable and unsustainable form of relationship. This was known by later historians as the unstable alliance theory of Washington. When it came to the early 19th century, President Monroe took his diplomatic stance further in requiring that Europe should not intervene in American affairs. This became known as Monroeism.
From the 13 states in North America which declared independence in 1776, to the final absorption of the surrounding territories (48 states in 1912), and the political integration of the early 20th century, isolationism – the combination of Washington's Theory and Monroeism – played a vital role.
However, from the late 19th century, the U.S. began the process of de-isolationism, which was complete by the end of WWII.
Two major political groupings came into being after the war, and a series of international organizations, under the leadership and with the participation of the US, were established as well – the International Monetary Fund and the World Bank.
Why is Trump Tending towards Neo-Isolationism?
Since the end of the Cold War the US has assumed world leadership. This was especially the case during Obama's administration when the "liberal order" reached its peak. However, the idea of "liberal order" has been subject to various challenges, which has laid the ground for the generation of Neo-isolationism. The catalysts are complex; here I focus on just two of them:
First, foreign debt. U.S. foreign debt has doubled twice over from 2001 to 2016. George Bush adopted neo-conservatism during his 8-year administration, and started two wars which saw U.S. foreign debt rocket from more than 5 trillion USD to around 10 trillion USD – this was the first doubling. The Obama administration claimed that the government would reduce foreign debt to fill up the "hole" left by the former government, but in reality foreign debt doubled again, this time from 10 trillion to 20 trillion USD.
It is hard to figure out how much of this money was spent on upholding the US "world order", but it triggered uproar at home in the U.S., with people calling on the government to reduce expenditure on foreign affairs and put more money into domestic construction to improve people's lives.
Second, the liberal world order and multinational enterprises. Although the "Liberal World Order" works to the benefit of multinational enterprises who leverage their global reach to further their interests, their global activities also impact the US in following ways: (1) multinational enterprises do not have a "national identity". Their global gains will generally be invested in further global expansion rather than flowing into the U.S. domestic economy; (2) the profits they gain will be shifted to the countries that levy the lowest taxes, thus the US obtains no tax revenues from their profits; (3) international capital erodes and limits the operational space of U.S. companies who focus mainly on the U.S. domestic market.
What does Neo-Isolationism Mean?
The new concept of neo-isolationism, of which Trump's government is a representative example, is characterized by a change of purpose. Traditional isolationism involved not intervening European internal affairs, while the core theme of Trump's neo-isolationism is to cast doubt on and abandon what is known as the "liberal world order".
From a personal perspective, Trump is a typical domestic businessman. The senior officers he has appointed in his government are typical domestic businessmen too, and together they represent the interests of domestic U.S. business tycoons.
The reason why Trump prefers bilateral relations to multilateral relations partially lies in his personal experience as a real estate agent. He wrote in his book The Art of the Deal that when he wanted to develop a large property project, he would meet a lot of small landowners. Would he then choose to bargain with them one-by-one in secret, or would he gather them together to engage in a collective negotiation? As a giant property developer, Trump would invariably choose to bargain individually, offering whatever conditions he could negotiate – some higher, some lower – so that everyone who made a deal had agreed their own price. If he had chosen collective negotiations, small landowners would certainly have united to bargain for a higher price.
Although this is only Trump's personal opinion, the chief United States Trade Representative Robert Lighthizer recently pointed out that when your economy has reached a value of 18 trillion USD, then one-to-one negotiations will definitely allow you to play a stronger hand.
Which of Trump's Policies Manifest Neo-Isolationism?
Trump's Neo-isolationism has affected U.S. domestic and foreign policies in many ways. The following are just some of the key points in Trump's economic logic:
First, massive tax reductions. Having visited Japan and Korea in the previous days, Trump arrived in China on November 8. However, if you had checked the U.S media in the lead-up, you would have found out that the headline news was not about Trump's visits, but about the shooting in Texas and the tax reform steered by the Republicans under Trump's leadership – massive tax reductions are the Trump's current policy priority.
Second, unleash the productive forces of energy resources. This is something previous presidents had never talked about. Trump's government claims that it will make energy one of the pillar industries of the U.S., and this is a groundbreaking mission.
Third, reduce government expenditure. Trump considers this to be a significant measure to lower the deficit.
Fourth, increase investment in infrastructure. This is also something Trump has been emphasizing since his presidential election campaign.
Comprehensive Sino-U.S. Economic Cooperation: Trade-Energy-Infrastructure
Since the end of last year, energy cooperation has been a priority for future Sino-U.S. cooperation. Tens of billions of USD are to be invested in Sino-U.S. energy cooperation.
Beijing, for example, has already built 4 central power stations, and half of the heating this winter will be generated by natural gas instead of raw coal. 25% of the electricity in Beijing next year will be generated by natural gas as well. Where does this natural gas come from? At the present time, most of China's natural gas comes from Russia and Middle and West Asia. The US will probably become one of China's vital natural gas suppliers in the future.
The import and export of natural gas involves a complicated process – the construction of the necessary port facilities, laying pipelines, and the equipment for liquefaction and vaporization all require immense investment. Thus energy cooperation between China and the US requires a long-term political commitment.
This meeting of the heads of China and the US, in my view, will be a vital move towards the construction of a system of comprehensive economic cooperation that involves cooperation in trade, energy and infrastructure.
(Lyu Xiang, senior research fellow of Center for China and Globalization (CCG) and an expert on US studies with the Chinese Academy of Social Sciences)