What is Behind Section 301 Investigation into China?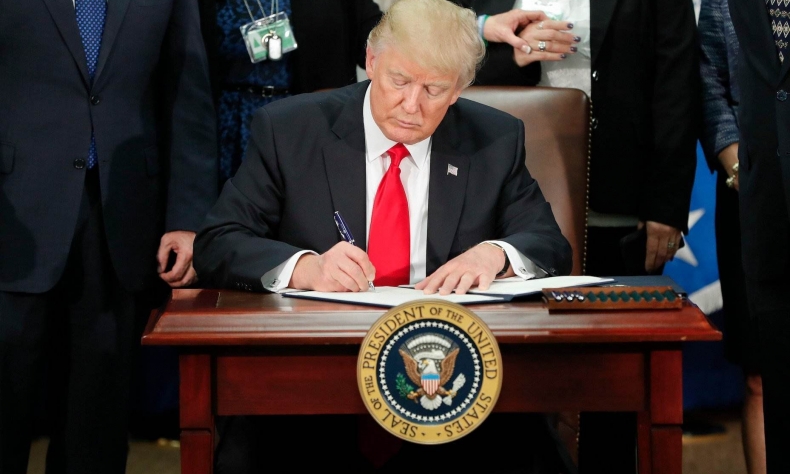 On August 14 US President Donald Trump issued a presidential memo directing the United States Trade Representative (USTR) to conduct a Section 301 investigation into China. Robert Lighthizer, the USTR, subsequently announced the process.
Trump explained the reason behind the move as China's "forced technology transfer" and "theft of American IP", and called the investigation "a very big move" and "just a beginning."
On August 14 US President Donald Trump issued a presidential memo directing the United States Trade Representative (USTR) to conduct a Section 301 investigation into China. Robert Lighthizer, the USTR, subsequently announced the process.
Trump explained the reason behind the move as China's "forced technology transfer" and "theft of American IP", and called the investigation "a very big move" and "just a beginning."
What is the objective of the US unilateral investigation?
Since the 1990s China and the US have had a mature mechanism dealing with IP dialogue and cooperation, as part of the Joint Commission on Commerce and Trade (JCCT), which has been very effective. Both sides could refer IP issues to this mechanism for investigation and action. The trade, patent, customs and other relevant authorities of both countries have been working together for many years. For any new complaints and concerns, the USTR could easily refer the matter to the Chinese government. There is no need to initiate this unilateral investigation.
Section 301 is a part of the Trade Act of 1974. As American domestic law, it has no jurisdiction over China-US trade, which is governed by WTO rules, principally the Agreement on Trade-Related Aspects of Intellectual Property Rights (TRIPS), and WTO Dispute Settlement Mechanism (DSM). The USTR could easily ask for a consultation with China within the WTO framework, based on WTO rules. Why set aside this option?
The unilateral 301 investigation, including the pre-investigation consultation, will serve no purpose. China will definitely refuse to participate in the section 301 consultation, and will certainly reject any subsequent investigation findings and actions. If the US decides to launch retaliatory measures at the end of the investigation, China will certainly launch counter measures. The US has nothing to gain.
Sensationalized Exaggeration
 A good explanation for initiating the section 301 investigation can be found in an article by Wilbur Ross, the US Commerce Secretary, published in the Financial Times on August 14, the same day as the Trump announcement. Entitled American genius is under attack from China, the article made a series of sensationalized claims about IP issues with China and provided justification for Trump's "very big move".
Wilbur Ross alleged that American companies lose $600 billion per year due to theft of IP, or 3% of US GDP. He then stated that China is a primary culprit: accounting for 87% of counterfeit goods seized at the border. This is a very amateur calculation. GDP is the total volume of added value created in all sectors, while the loss of company sales is the gross revenue, before depreciation, cost and tax deduction. As to the issue of 87% of counterfeit goods, according to the relevant data, a total volume of $1.4 billion in counterfeit goods was identified in the US in 2016 – less than 0.4% of the Chinese exports to the US. This falls far short of the claimed $600 billion loss to American companies. Chinese companies offering genuine goods are also victims of the counterfeiting. Hence, China is also engaged in a resolute fight against the counterfeiters and has been working with the US government for years.
"Forced Technology Transfer" and "Theft of American IP" Unfounded or Exaggerated
 Wilbur Rose's article makes a big deal of the China threat to America's high tech sector and its future. He describes Made in China 2025 as the embodiment of China's ambition to dominate the production of goods such as semiconductors, AI, automotive vehicles, and biotechnology, and asserts that the US "stands firmly in China's path". He then claims that China compels American companies to turn over proprietary technology and intellectual property as a prerequisite for market access.
It is not true that China forces high-tech foreign companies to transfer technology when investing in China. Premier Li Keqiang made it clear at the Summer Davos on June 28 2017 that the Chinese government does not allow the Chinese companies to force technology transfer. On March 11 2017 Minister Miao Wei of MIIT said at the NPC press conference that there is no forced technology transfer requirement for foreign investors. Foreign investors can set up R&D centers either in China or elsewhere, in accordance with their own decisions. They do not need to transfer technology either. Regarding the investment in new energy vehicles, he said the requirement is that the investor must possess full new energy technology, not merely assembly capacity. This does not mean that they must transfer the technology in China. They can keep it. Dr. Jochem. Heizmann, Volkswagon Chairman and CEO endorsed Miao's remarks as "in the right direction".
Chen Demin, former Minister of China's Ministry of Commerce (MOFCOM) said on February 9 2012 that China had rules forcing technology transfer before joining WTO, which had been scrapped following accession to the WTO. Sun Jiwen, spokesperson for MOFCOM, said on March 23 2017 that there is no forced technology transfer law in China.
If an individual case on forced transfer is identified, the US investor has the right to refer it to the Chinese government, providing full information and evidence. There is no doubt that action will be taken.
There might be individual cases of IP infringement. But this is not general Chinese "theft of American IP".
According to the US Chamber's Global Intellectual Property Center (GIPC) annual report The Roots of Innovation: the 2017 international IP Index, China's IP index rated 42%, ranking 17th in the 45 economies the report covered. China's index was far behind those of the US, UK, Japan and EU, but far ahead of many developing countries. The report noted that over the past year, China, Pakistan, UAR and Sweden had introduced new mechanisms for IP protection and set up IP courts, which enhanced the fight against IP infringement and piracy.
The American Chamber of Commerce in China (AmCham), found in its 2015 white paper that only 22% of members rated China's IP protection as 'very satisfactory'. However, 82% of them endorsed China's progress in IP protection. In its 2017 white paper, the top five concerns of its members are: Inconsistent regulatory interpretation, rising costs, increasing Chinese protectionism, shortage of qualified management, and difficulty in obtaining required licenses. "Theft of American IP" did not figure, and IP issues have never appeared in the top five concerns in the past 6 years from 2012-2017.
Those findings show that China's IP protection, though far from complete, has been making progress each year.
Of course, there are cases of IP infringement, piracy and counterfeit goods in China. Governments and businesses of the two countries need to step up information-sharing and collaboration on action to continue the fight.
Trump – the Right Concern and the Wrong Target
 Wilbur Ross's article shows that the US is really worried about China's rapid progress in high tech industries, and about the future threat to America's world dominance in high-tech. Steve Bannon, the strategic advisor to President Trump, stated bluntly that the US is engaging in an economic war with China. He said that if China continues in its current direction, the US will reach a decisive and irreversible turning point in 5-10 years, and lose its world dominance. This concern demonstrates clearly why section the 301 investigation is to be launched, why it is "a very big move', and why it is "just a beginning".
Trump is undoubtedly right to worry about the declining US dominance in the world economy and high technology. However, he is absolutely wrong in making China his major target or challenge. In order to "make America great again", he should seek all possible cooperation from international resources in innovation, R&D, talent and markets, including those from China. Made in China 2025 is an open strategy for cooperation with the world, including the US. All the policies and incentives for Made in China 2025 apply to foreign investors and operators equally. Strict IP protection is clearly written into the relevant Chinese laws. This is no time for Trump and his team to misjudge the abundant opportunities and waste time heading in the wrong direction. They should shelve the section 301 investigation and return to WTO-based IP dialogue and joint actions with China, thereby bringing solid benefits to American companies.
(The author is senior fellow of Center for China and Globalisation, and of Chongyang Institute for Financial Studies, Renmin University)