Blaming China Won't Help GOP's Election Campaign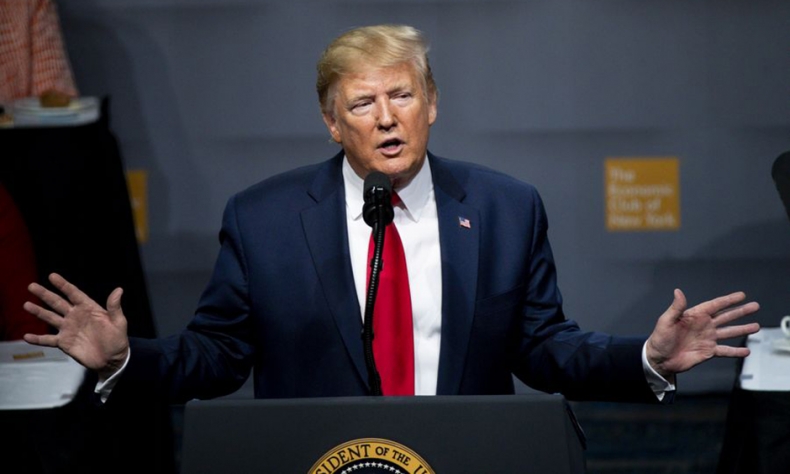 In casting China as the new American boogeyman in order to boost campaign polling, Republican hawks are playing a very dangerous game.
At a White House press conference last week, US President Donald Trump claimed to have seen evidence that the novel coronavirus originated from the Wuhan Institute of Virology.
When questioned by a reporter on whether the president had seen anything which gives "a high degree of confidence" that the Wuhan laboratory was the origin of the virus, Trump replied, "Yes, I have. Yes, I have."
Pressed to provide evidence in support of his claims, Trump said "I can't tell you that… I'm not allowed to tell you that."
The president's claims – labelled "speculative" by the WHO – were later dismissed by the US intelligence community. In a rare public statement, the Office of the Director of National Intelligence, which overseas US spy agencies, said it concurs with the "wide scientific consensus" regarding COVID-19's natural origins.
Dr. Anthony Fauci, the leading US expert on the coronavirus pandemic, also refuted the president's claims that the virus could be man-made.
"If you look at the evolution of the virus in bats and what's out there now, [the scientific evidence] is very, very strongly leaning towards this could not have been artificially or deliberately manipulated," he said.
Election strategy
Trump's claims that the novel coronavirus originated from a lab in Wuhan represents a marked shift away from his earlier praise of China, for the country's "hard work" and "professional" handling of the coronavirus pandemic.
Given that the president's own intelligence and medical advisers have spoken out against baseless lab-origin claims, many have asked what possibly could be behind Trump's abrupt and controversial shift?
A growing number of political analysts and media commentators have pointed towards the upcoming US presidential election as the likeliest answer.
The theory runs that with the US economy in free fall and a growing anger at America becoming the worst impacted country in the world- as evidenced by the US topping global tables on both coronavirus cases and death-toll – Trump is seeking to scapegoat China to deflect attention away from his own catastrophic failings.
The National Republican Senatorial Committee sent campaigns a detailed 57-page memo authored by a top Republican strategist calling on GOP candidates to deflect attention away from Trump's handling of the coronavirus crisis by aggressively attacking China.
"Don't defend Trump," the memo instructs. "Attack China."
The memo centers around the claim that "China caused this pandemic" and advises candidates and campaigns to frame the Democrats as "soft on China" and stress that Joe Biden in particular has been "weak on China" throughout his whole career. It advises Republicans to take an increasingly tough stance against China, and even calls to "push for sanctions."
"My opponent is soft on China, fails to stand up to the Chinese Communist Party, and can't be trusted to take them on… I will stand up to China, bring our manufacturing jobs back home, and push for sanctions on China for its role in spreading this pandemic," reads the Republican memo.
Referendum on China
Prior to the coronavirus pandemic, the Trump campaign was confident in securing a second term on the basis of America's strong economic record. Now, with unprecedented levels of unemployment and an economy falling into a most severe recession since the end of WW II, Trump and his aides have stepped up attacks on China and Democrat front-runner Joe Biden.
The Guardian captures Trump's new election strategy succinctly: "Tie Biden to China – and attack them both."
The Trump campaign first took aim at China and Joe Biden together in an online ad titled "Biden stands up for China."
In the ad, China is depicted as a menacing enemy which is "crippling" America, whilst Biden is portrayed as Beijing's guy. In support of this narrative, ominous music accompanies clips of Biden and Chinese President Xi Jinping clinking glasses and laughing together.
A clip from a 2011 speech at Sichuan University shows the Trump rival saying, "It is in our best self-interest for China to be able to prosper." A caption then appears: "No. Just Biden's interest."
A leading pro-Trump Super PAC called America First Action, is dedicating a considerable amount of resources in an attempt to further align Joe Biden with China. AFA plans to spend US$10 million in key states Michigan, Wisconsin and Pennsylvania, to brand the presumptive Democrat nominee as "Beijing Biden."
The influential Super PAC has also scooped up the domain name beijingbiden.com and has campaigned heavily on social media platforms with the hashtag Beijing Biden (#beijingbiden).
"China wants Sleepy Joe sooo badly," Trump tweeted on 19 April, adding: "Joe is an easy mark, their DREAM CANDIDATE!" A campaign email stressed the point again: "I am TOUGH ON CHINA and Sleepy Joe Biden is WEAK ON CHINA."
AFA President Brian O. Walsh, recently revealed that the Trump campaign has long been planning to harness anti-China rhetoric during the 2020 election. "The China piece of this was part of the overall thinking far before coronavirus, because we knew its potency and its relevance," Mr. Walsh said. "This just made it more potent and more relevant."
Chris La Civita, a longtime Republican strategist, added that "Trump has always been successful when he's had a bogeyman and China is the perfect bogeyman."
A dangerous game
Under President Trump, xenophobia and racial attacks against Chinese people have dramatically increased and American sentiment towards China has fallen to its lowest levels on record.
A Pew survey of Americans conducted in March, found that roughly two-thirds (66 percent) now say they have an unfavorable view of China, Pew noted that the poll is the "most negative" rating of China since the Center began asking the question in 2005, and "up nearly 20 percentage points" since the start of the Trump administration.
By blaming China, the White House makes Americans have increasing negative views on China, but it doesn't help Trump administration retain approval rating. According to monthly polling by Gallup, the percentage of Americans who were satisfied with what was going on in the country has decreased to 30 percent in mid-April from 42 percent in mid-March.
After a long bitter trade war through last year, the US and China had only just begun to repair their historically frosty relations. But now Republican hawks are seeking to deflect domestic criticism and discontent by blaming others such as China and WHO. By recasting China as the new American boogeyman in order to boost campaign polling, they are playing a very dangerous game indeed. It will not only harm the US-China mutual trust with more destructively, but also hinder the cooperation between the two countries in the battle against Covid-19.
Currently, the world needs all countries to work together to fight against the pandemic of Covid-19. China is the world's largest manufacturer of medical equipment and masks and the United States has strongest capabilities in vaccine development and pharmaceutical research. The two countries should concentrate on cooperation to help the world defeat the coronavirus.