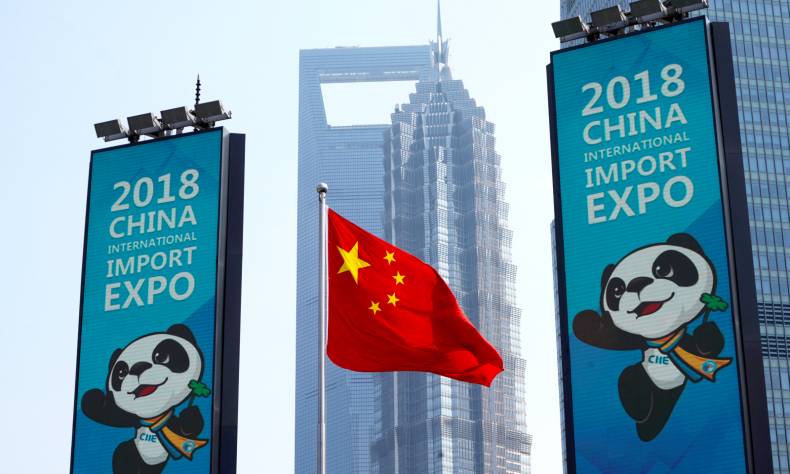 CIIE: The World Will Enjoy The Free Ride Of China's Development
Why then should China, a developing country, hold such an unparalleled Import Expo? The CIIE 2018 is designed to provide solutions to the following three issues.
The China International Import Expo (CIIE), opened in Shanghai on November 5, represents an idea with unprecedented significance in the 21st century.
In the history of trade, economics or even human civilization, no country has ever independently hosted an import expo. From the perspective of trade, exports are meant to stimulate the domestic economy, while imports entail wide shouldering of responsibilities and require a capable country with a large market and huge consumer demand.
Why then should China, a developing country, hold such an unparalleled Import Expo? In my view, the expo is designed to provide solutions to the following three issues.
First of all, as President Xi Jinping said at the first Belt and Road Forum for International Cooperation, in terms of the real global situation, we find ourselves in a world fraught with challenges. Global growth requires new driving forces, development needs to be more inclusive and balanced and the gap between rich and poor needs to be narrowed. Hotspots in some regions are causing instability and terrorism is rampant. Deficits in peace, development and governance pose a daunting challenge to mankind.
Development is the master key that can be used to tackle these three deficits. To achieve positive development, we must grasp the two major elements: i.e. industry and trade. While industry is the foundation of economy, trade is an important engine for economic growth. Incremental efforts in China to promote trade, especially in terms of imports, help unleash the potential of all countries and solve problems such as stagnant economic growth, an unfavorable export environment and the inability to use exports to drive the economy.
Secondly, China is holding the Expo to fulfill its obligations as a rising power. "In observation of China's development, we must see the give and take of the Chinese people; To study what China has achieved, we need to see its contributions to the world." Since 1950, China has provided foreign aid totaling more than 400 billion yuan. Since the initiation of reform and opening up, it has attracted more than US$1.7 trillion foreign investment and dedicated over US$1.2 trillion of direct investment in other countries, making tremendous contributions to world economic development. Most noticeably, since the outbreak of the international financial crisis, China's economic growth has accounted for more than 30 percent of global economic advancement. The figures outlined above prove that China's development is an opportunity for the whole world, and that China is not only a beneficiary but also a contributor to economic globalization. With all the progress it has made, China will not become envious of other countries' achievements. We hope that the world at large can take and enjoy the free ride of China's development. In this context, the Import Expo is a proper manifestation of China's good will and great power.
Thirdly, the Expo is in line with constructing a community with a shared future for mankind. At a time when the global economy is recovering only slowly, China's progress seems even more important and the consumer market created by its expanding middle class stimulates more exports than expected.

Δ Participants attend the Parallel Session on Trade and Investment of the Hongqiao International Economic and Trade Forum in Shanghai, east China, Nov. 5, 2018.(Photo/Xinhua)
Jointly Building a Community of Shared Interests
China will stay committed to its national policy to increase imports. In the face of downward pressure and difficulties in its economy, China still hopes to build a community with a shared future for mankind through cooperation, as well as figure out a proper way to address current global and regional economic problems by way of mutually beneficial cooperation.
In my many years of trade negotiations, one of the daunting challenges I have faced is the long-term trade deficit of developing countries in dealing with China. That includes many African and Arabian countries. In fact, these countries have a lot of products to offer, but the problems are still difficult to handle. For example, citrus in Egypt and oranges in Morocco are among the world's best, but are hard to sell in China due to import and freight costs. With the rise of domestic consumption in recent years, Moroccan oranges, with a different flavor compared to Chinese Jiangxi Ganzhou navel oranges, have won the favor of Chinese consumers.
Developing as well as developed countries are approaching China at the same time. French high-end clothes and wine, Swiss watches and German cars are all being brought in at a rapid pace along with the upgrading of the Chinese consumer market. Today Chinese trade negotiators are confident enough to hold discussions with partners — as long as they have quality goods suitable for the Chinese market, they can bring their goods to China. In this process, we not only import consumer goods, but also activate the entire line of production including upstream and downstream processes. While meeting its domestic consumption needs, China promotes the economic development of other countries and lays a foundation for jointly building a community of shared interests, responsibility and future for mankind.

Δ Container area at the Yangshan Deepwater Port, part of the Shanghai Free Trade Zone. (Photo/Agencies)
To Drive the Development of China as a Whole
The Expo also meets China's needs to develop from a large trading country to a powerful one. Today, China is the world largest exporter and the second largest importer. With more efforts dedicated in both imports and exports, China is bound to play a greater role in formulating the right to speak in global trade and to formulate rules.
Some people ask if increasing imports will take a toll on Chinese domestic industries. I hold the opinion that they will not. On the one hand, we can take imports as a means to adjust the needs of people's daily consumption and exercise control over them. On the other hand, with the transformation and upgrading of domestic consumer demand, people's requirements for high-quality products imported from abroad are also increasing. Consumer goods not available at home can be imported, and import of those available will force domestic enterprises to transform and upgrade, intensifying supply-side reforms and promoting enterprises into a sense of crisis. Meanwhile, increasing imports sets standards and benchmarks for Chinese companies to learn from their foreign counterparts.
Others have asked whether huge increases in imports would lead to a trade deficit. It should be pointed out that China always advocates trade balance. We do not simply pursue a trade surplus and we will not be frustrated by future deficits. China's foreign exchange reserves recently reached US$3 trillion, while imports total just over US$2 trillion. Using foreign exchange reserves to solve some of the import deficit issues is an entirely feasible solution for the foreseeable future.
It is certain that the opening of the first international Import Expo will drive the development of the entire Shanghai region and even China as a whole. We hope to promote global innovation and development by importing commodities and increasing mutual learning with others. In particular, the development of the digital economy, artificial intelligence, nanotechnology, quantum computing, big data, cloud computing, smart city construction and other industries make the CIIE the stage for the younger generation with innovative talents to realize their dreams.
The author is Vice Chairman of the China Center for International Economic Exchanges, and former Vice Minister of Commerce.
Compiled version from the Global Times