Communication and Coordination Key in Continuing Strong China-EU Relations
There is much that unites China and Europe. Whilst Donald Trump's isolated, "America First" strategy has hurt countries economically, it has created possibilities to strengthen and build new relationships.
China and the European Union's (EU) is one relationship that has matured greatly over the last few years. Trade now averages at over €1 billion a day, and both see eye to eye on a range of issues, from climate change to multilateralism, free trade to reform in the World Trade Organisation.
"Solid Foundation, Enormous Potential and Bright Prospects"
Chinese Premier Li Keqiang successful visit last week to Europe, where he visited Belgium, the Netherlands, the latter which signed trade deals reaching US$10 billion and the Asia-Europe Meeting (ASEM), was another chance to reaffirm the strong values that Europe and China hold.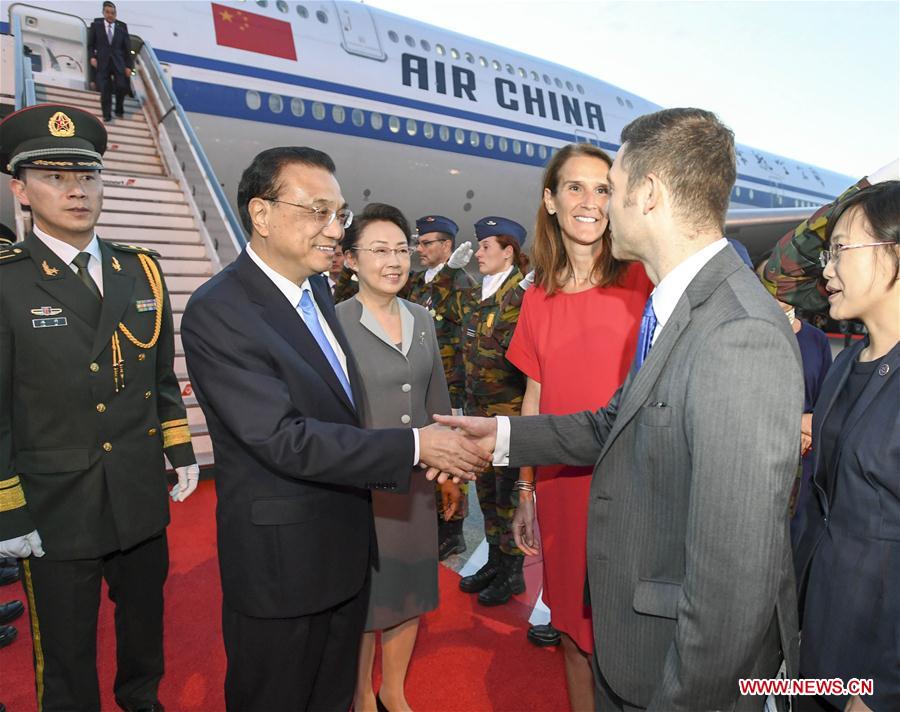 Δ Chinese Premier Li Keqiang (2nd L) arrives in Brussels, Belgium, Oct. 16, 2018. (Xinhua/Gao Jie)
"Cooperation between Asia and Europe has a solid foundation, enormous potential and bright prospects," said Premier Li in his speech at the ASEM summit.
On multilateralism, Premier Li spoke of Europe and Asia's joint responsibility to "lead the way" in keeping multilateral institutions alive, as well as adhering to and reviewing a rules-based system, such as those offered by the World Trade Organization (WTO).
In the Netherlands, Li's keynote speech at the business forum emphasized China's continued commitment to opening up, highlighting the steady progress made in areas such as cutting tariffs on over 1,500 industrial goods to a rate of 7.5%, opening up financial institutions and lifting foreign ownership caps on banking, which will soon include insurance and securities in the next 3 years.
Continuing his talk on China's openness, he spoke of how the International Import Expo in Shanghai next month will be another "major step" for China in promoting trade liberalization and opening its markets to the wider world.
Li also used his tour of Europe to reaffirm China's commitment to protecting intellectual property rights, making its rules more "stringent".
"In recent years, China has revised nearly 20 IPR-related laws and regulations, handled over 1.4 million cases of IPR infringement, and set up special IPR tribunals. Intellectual property royalty payments by Chinese companies to overseas proprietors have increased by a big margin to reach US$28.6 billion last year, of which one third was made to the EU," said Premier Li.
Different Strategies to Cause Friction?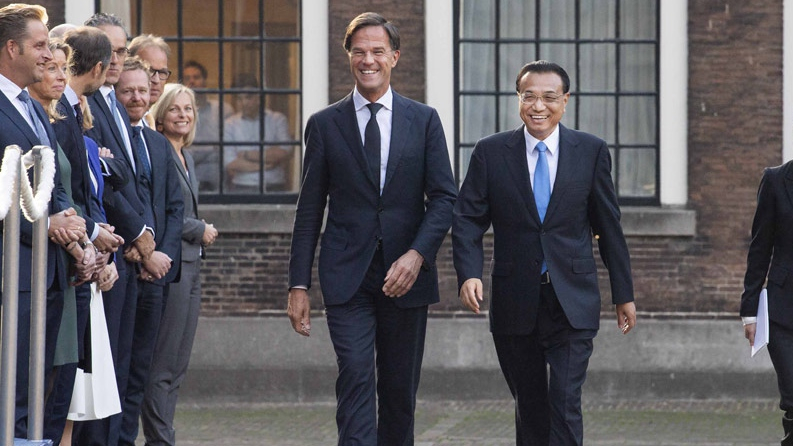 Δ Li Keqiang said on Oct. 15th that China is willing to work with the Netherlands to safeguard multilateralism and free trade through more open and pragmatic cooperation.
Most importantly, Premier Li mentioned in his speeches the need for more coordination, communication and synergy in EU-Asian relations, using the theme of the summit, "Global Partnership for Global Challenges," to highlight it.
This is certainly needed in light of the different strategies and policies arising on how to connect Europe and Asia.
Whilst China's Belt and Road Initiative has successfully been connecting Asia with Europe for the last five years, investing billions of dollars into infrastructure development and trade routes, others are also doing the same.
Most recently, the European Council announced on the 15th October, that they would adopt the "Connecting Europe and Asia – Building blocks for an EU strategy", as written in the joint communication by the Commission and the The High Representative of the Union for Foreign Affairs and Security Policy, Federica Mogherini in September this year.
More commonly known as the Europe-Asia Connectivity strategy, the policy has been touted as a rival to the Belt and Road Initiative, focusing on creating a "connectivity which is sustainable, comprehensive, and rules-based, and will advance investment and trade."
In the face of misconceptions about both policies having been spread through rumour and conjuncture, Premier Li reassured those in the Netherlands that BRI focuses on investment, not politics.
"The BRI is an initiative for economic cooperation, not a tool of geopolitics." he said, highlighting one misconception portrayed in the western media.
Coordinated Action is Best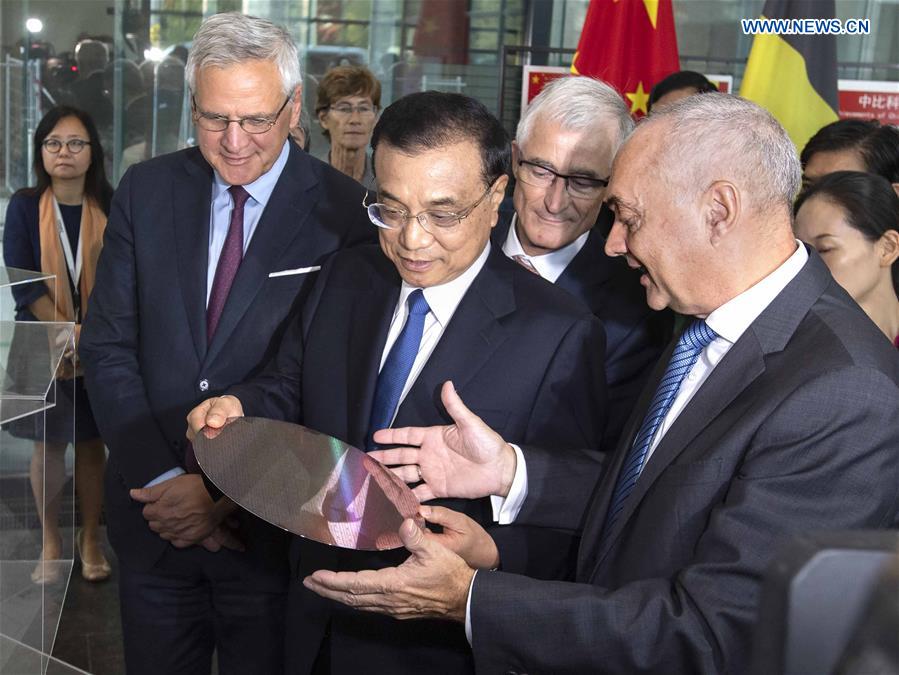 Δ Chinese Premier Li Keqiang (2nd R, front), accompanied by Belgium's deputy prime minister and economy minister Kris Peeters (3rd R, front), visits the Interuniversity microelectronics center (IMEC) in Leuven, Belgium, Oct. 18, 2018. (Xinhua/Li Tao)
One way to stop the misconstructions build a better-connected Asia would be to coordinate action plans.
"We need to embrace openness and inclusiveness, and coordinate our actions to promote open and interconnected progress through win-win cooperation to instill strength and confidence into world development", Li said in Brussels.
Asia, excluding China, needs at least US$1.7 trillion in infrastructure development per year, according to the Asian Development bank. Whilst China has invested US$ billions over the last five years, more is needed to quicken this process. By uniting, coordinating and synergizing their policies, China and the EU can successfully fulfil this objective.
For the EU, this makes more sense. China already has a five-year head start, has created a trust base within those Asian countries it has already invested in and has a well know brand in BRI.
There is also no way the EU can match China's investment, with Beijing already signing US$390 billion in deals this year, according to China's Ministry of Commerce and the EU itself cutting funds such as development aid by 3% this year.
This could leave the EU with an ineffective policy, constantly playing catch up to what China has already done.
There are also benefits in coordinating strategies for Chinese companies. According to Cui Hongjian, a senior fellow with the China Institute of International Studies, increased competition to fund Asian projects could see Chinese enterprises perform more effectively with other belt and road partners, and offer more choice for those countries choosing investment, creating a more open system.
As Bernard Shaw said, "the single biggest problem in communication is the illusion that it has taken place. Only when communication actually takes place do you realize its benefits."
Good communication and coordination on both strategies would help remove the misconceptions and confusion over each other's projects and create the "win-win" situation both plans are striving for. China and the EU already have much that unites them. Uniting their connectivity strategies should be the latest.
By Tomas Scott-Bell, editorial writer for China Focus.