Coronavirus: Chinese People Rise United to the Challenge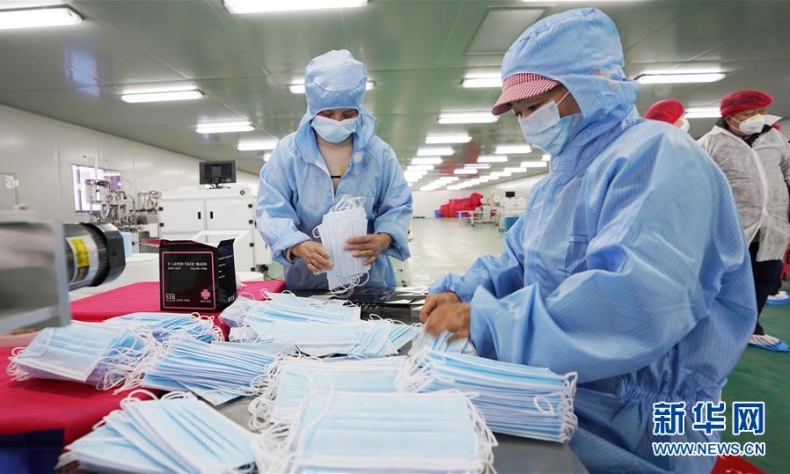 To combat the growing epidemic, China's Central Government has announced an additional 11.21 billion yuan (US$1.616) for public health service and epidemic prevention.
The outbreak and spread of the novel coronavirus (2019-nCoV) across China and beyond its borders is a "grave" situation, President Xi Jinping said last week. This week – the first week after Spring Festival – with cases and deaths rising quickly, Xi has called for unity. He stressed that the Central Government needs to scientifically assess the development of the epidemic, make precise decisions, and act under unified leadership.
According to Chinese Center for Disease Control and Prevention (China CDC), there are 24,324 confirmed novel coronavirus cases with 490 deaths reported on the Chinese mainland as of 24:00 CST (16:00 GMT) February 4. The majority of those affected are from Wuhan, the epicentre of the outbreak.
At least 175 cases have been reported beyond China, with cases recorded in Thailand, the United States, Australia, South Korea, Singapore, Malaysia, Japan, France, Germany, the United Kingdom, Vietnam, Cambodia, Nepal, and Sri Lanka.
To combat the growing epidemic, China's Central Government has announced an additional 11.21 billion yuan (US$1.616 billion) for public health service and epidemic prevention. In the country, 30 cities and provinces have launched Level I emergency response and people are showing – in action and in spirit – that they are committed to fighting the deadly virus all the way.
United Nations Secretary-General Antonio Guterres said the UN appreciates China's effort and has full confidence in its ability of controlling the outbreak. In a meeting with China's Permanent Representative to the UN Zhang Jun, the UN chief commended China for working with the international community in the spirit of "openness, transparency, and scientific coordination."
Being united to tackle the challenge
President Xi urged the Communist Party of China (CPC) organizations and members of various levels to lead and unite the people. He added that China must rely on the people to win the battle against the novel coronavirus epidemic. The people of China have certainly heeded this call.
Health professionals and emergency workers, who just days earlier were preparing for festive celebrations with their families, have given up all their holidays and family reunion, and vied to fight the virus in Wuhan. Led and encouraged by Doctor Zhong Nanshan, China's top expert in anti-virus, thousands of doctors and nurses rushed to Wuhan in just two days. They are now working round the clock with little rest in order to assist those affected. Medical units from Shanghai, Guangdong, the armed forces and elsewhere have been deployed to assist local medics in Hubei province. More than 6,000 medical personnel have already arrived.
Hundreds of engineers and contractors are working night and day to build two purpose-built hospitals for coronavirus patients. Construction is already underway on the first hospital which will provide up to 1000 additional beds and is scheduled to be completed by February 3. The second hospital, designed to have 1,300 beds is set to be completed in an equally impressive short amount of time, and should be operational within two weeks.
The World Health Organization (WHO) has commended the people of China for their efforts and voiced confidence in China's epidemic prevention and control methods. WHO Director-General Tedros Adhanom Ghebreyesus, who met with President Xi in Beijing on January 28, said the measures taken by China to control the novel coronavirus are rarely seen in the world.
In one heartwarming clip circulating on social media, the residents of Wuhan are shown gathering on their balconies and shouting messages of comfort and support to each other. The calls of "Wuhan, Jiayou" (Come on, Wuhan) can be heard in multiple videos from near and far.
Global action
As the cases of novel coronavirus are steadily increasing beyond China's borders, so too are the measures taken by the international community. Since China identified the new pathogens and successfully sequenced the viral genome structure, scientists and researchers worldwide have been racing to find a vaccine.
World leaders are working closely together to implement policies for control and prevention. Chinese State Councilor and Foreign Minister Wang Yi held a phone conversation with his French counterpart Jean-Yves Le Drian on January 27. The novel coronavirus outbreak reminds us once again that the destinies of all nations are closely linked in the era of globalization, Wang said. The Foreign Minister added that China is willing to work with other countries to safeguard the life and health of people in China and around the world.
US president Donald Trump – despite ongoing trade tensions – has offered China "any help that is necessary." "Our experts are extraordinary" the president said in a tweet, adding that though few cases have been identified in America, the country is "strongly on watch."
The collective effort and action taken by the international community to combat the spread of novel coronavirus is certainly reassuring. It is reassuring to know that in times of adversity; human nature is to overlook difference and instead see commonality. And it is truly humbling to witness the individual acts of selflessness, courage and bravery, as people such as Dr. Liang Wudong, put themselves at risk in the help of others.
China will overcome this latest challenge as it has many in the past. The hope is that world leaders – as is being demonstrated currently– recognize that some challenges affect the global community as a whole and so require cooperation and a unified response the world over for the sake of all our peoples.
Jiayou Wuhan. Jiayou China. Jiayou All.
The article has been updated on Feb 5th.