International Poverty Alleviation Forum on China's Experience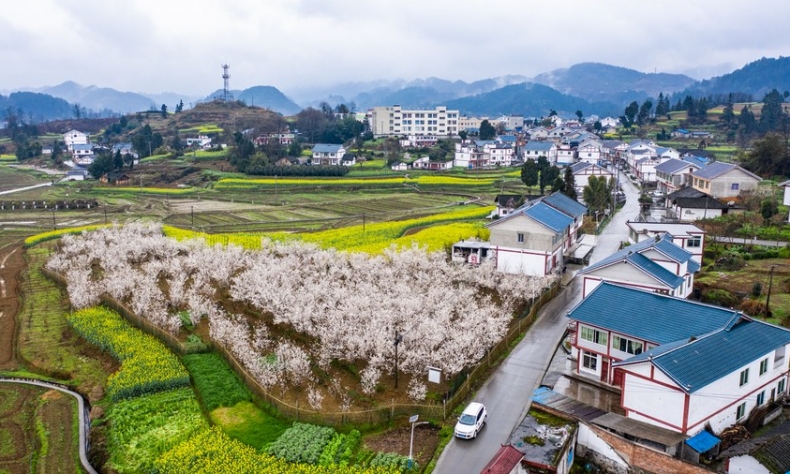 Not only has China lifted hundreds of millions of people out of extreme poverty but it has also shared their experience, knowledge, and methods, as a reference for other countries.
Editor's note: The International Forum on Poverty Governance and Development Towards Modernization was held in Nujiang, Yunnan, on May 18. The event saw foreign representatives, government officials, scholars, and leaders in the private sector share their knowledge and experience in poverty reduction.
On February 25, Chinese President Xi Jinping announced that China has secured a "complete victory" in its fight against absolute poverty. As a learner, beneficiary and innovator of poverty alleviation theory, China has resolved to share its knowledge and experience with the developing world.
In a speech delivered to the International Forum on Poverty Governance and Development Towards Modernization Forum, Tan Weiping, Deputy Director-General of the International Poverty Reduction Center in China, said China's experience is a 'global public good'. Chinese theory and experience do not just belong to China, he said, "it belongs to the world."
The Forum, held in Nujiang, Yunnan province, last week, was attended by more than 150 foreign representatives, government officials, scholars and members of the private sector. It was hailed by attendees as a "vital platform" to learn more about China's experience in eradicating extreme poverty.
Tania Romualdo, Ambassador of the Republic of Cape Verde, said the event provided an "extraordinary opportunity" to share knowledge and learn from each other's successful experiences. Developing countries such as her own have important lessons to learn from China, she added.
José Luis Gioja, Deputy Speaker of the House of Representatives of Argentina, also applauded China for sharing its experience with the world. "I would like to highlight the joint efforts of the Chinese people and government," he said. Not only has China lifted hundreds of millions of people out of extreme poverty but it has also shared their experience, knowledge, and methods, as a reference for other countries.
During the Forum, three key themes emerged.
Poverty is a global concern
Almost all speakers acknowledged that poverty is a global concern and that Covid19 had dealt a significant blow to global poverty eradication efforts. According to the World Bank, up to 150 million people will have been pushed back into extreme poverty by the end of 2021, as a result of the pandemic. As with other global challenges, cooperation and a coordinated response is essential, speakers noted.
Siddharth Chatterjee, UN Resident Coordinator, called on members of the international community to "revitalize the deficit in multilateralism" to ensure lasting poverty reduction for everyone. To achieve the 2030 Agenda and the 17 Sustainable Development Goals (SDG's) he said, "We must end poverty in all its forms everywhere."
Poverty comes in many forms
In addition to being a global concern, poverty was recognized to be a multidimensional and dynamic challenge.
Yahya Qaralleh, the Ambassador of Jordan to China, noted that some causes of poverty are man-made and are therefore avoidable. Man-made crisis such as war is a significant setback for poverty alleviation, particularly in the Middle East, he said. Qaralleh added that as the world evolves and develops, poverty can appear in many different forms. Much of the developing world suffers from "digital poverty", he noted
In recognizing the many different forms and causes of poverty, Tan Weiping said countries must adapt and create tailor-made solutions which address their own unique challenges and circumstance. Ongoing vigilance is also necessary to ensure that vulnerable people and communities do not slip back into the poverty trap.
Developing world can learn from China
Korn Dabbaransi, Former Deputy Prime Minister and President of the Thai-Chinese Friendship Association said that the Thai people had learned a great deal from China's experience and thanked its government and people for sharing their knowledge. "These experiences have provided Thailand with new inspirations and ideas in our work of poverty alleviation," he said.
China's poverty alleviation experience shows us how "well-designed solutions" enhance trade and investment and make sustainable development a reality, the Cape Verde Ambassador added.
In closing, the UN Resident Coordinator noted that the transformation of the lives of nearly 100 million people from rural poverty in the last 7 years was "one of the greatest achievements of economic development in history".
The story of China's development into the world's second largest economy and its key takeaways of "tremendous importance" to developing nations, he said.
"On behalf of the United Nations family in China, I congratulate China International Publishing Group for their efforts in deepening exchanges and cooperation to advance global poverty governance for modern development," Chatterjee added.