Once Bitten, Twice Shy on Matters of Trade and Global Integration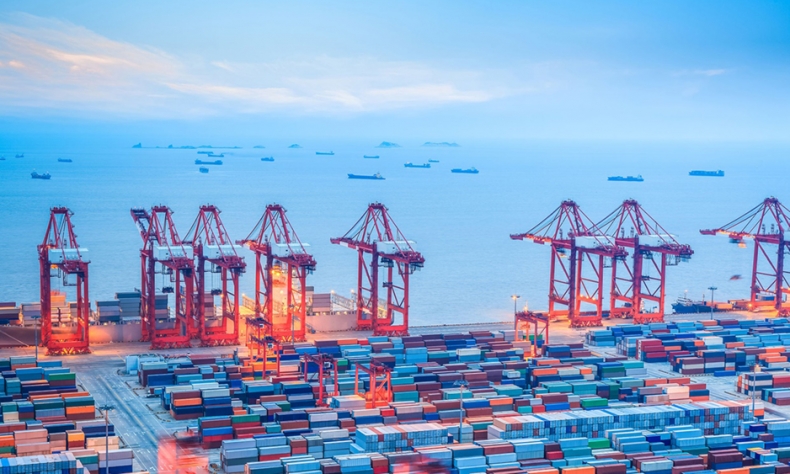 Time pushes forward, with less than half a year until the U.S. midterm elections this coming November, and a president whose lawyer is currently under an FBI investigation; the Trump administration is in a tussle, not only for its mandate, but also for its survival.
By Timothy Lobban
Time pushes forward, with less than half a year until the U.S. midterm elections this coming November, and a president whose lawyer is currently under an FBI investigation; the Trump administration is in a tussle, not only for its mandate, but also for its survival. In light of this, U.S. leadership seems to have ramped up its drive to actively reduce its trade deficit with China, and has done so by levying tariffs on over $34 billion worth of Chinese exports, with more promised to come if "corrective" measures are not taken on the Asian giant's part. And the World Trade Organization's (WTO) biennial review of China's trade policies and macroeconomic environment has also come to a close. As has been the case with America for the last year, the U.S. continues to apply pressure, while, somewhat surprisingly, a fellow victim of Trump's tariffs, the EU, has taken upon itself to join forces with the U.S. against China on matters of intellectual property rights and their protection. Indeed, Beijing finds itself at a familiar juncture as major nations across the world ally together to gain concessions on trade and commerce with China. The world's most populous country must take heed of history's lessons, and begin to structure its economy, geopolitical and international relations in a way which highlights the growing need to hope for the best, all the while, preparing for the worse.

Δ From its accession to the WTO to the establishment of the "One Belt and One Road", China has opened its mind and embraced the world. (Photo / VCG)
Nearly Two Decades Since its Accession to the WTO, China Stands Strong
 The WTO's recent biennial review of China is its seventh one since China joined WTO in 2001. The admission itself occurred on December 11th of that year – only three months after 9/11. This incident would be heard throughout the world, and go on to shift the zeitgeist of a global economy that China, after a period of isolation, was again becoming familiar with. The U.S. then began to redirect its focus away from the industrial policy, infrastructure and technology spending and support – which came to be associated with the Clinton years – towards more expansionist efforts overseas, coupled with less state support for the domestic economy. Past tax increases were reversed, and a previously downsized military ballooned. These were the Bush years. This was the America that China was to become increasingly accustomed to in the arena of international trade. And in an interesting turn of events, when the U.S. went right, it seems as if China, perhaps in part by closely monitoring America's track record up until then, decided to go left. Even in the face of mounting changes, China's growth remained robust, as central planning, partnered with trade and investment liberalization produced one of history's most spectacular economic growth stories.
China today is very different to that of 2001 and has opened up in a way which has undeniably affected not only its economy, but its society and culture. Western fast food giants such as KFC and McDonald's populate the streets of mega metropolises such as Beijing and Shanghai and smaller second and third tier cities with a similar vigor. Coffee has become a staple in the everyday diet of young urban Chinese workers, and Starbucks stores can now be found on nearly every sidewalk (to just list a few examples). The numbers paint a similar picture, according to Wang Shouwen, China's Vice Minister of Commerce and Deputy China International Trade Representative, foreign-invested enterprises were responsible for 44.8 percent of China's total foreign trade in goods. Imports for the Middle Kingdom between 2001 to 2017 were also found to have increased at an annual average growth rate of 13.5 percent, twice that of the world average. Furthermore, in 2014, China became the world's largest trading nation, accounting for combined imports and exports of merchandise of $4.3 trillion, exemplifying its commitment to global trade and development.

Δ On May 28, 2018, CEO of Tencent of directors Pony Ma delivered a keynote speech at the high-level dialogue on "Digital Economy" of China international big data industry EXPO in Quiyang, Guizhou Province. (Photo / VCG)
A New Framework for the Digital Economy
 Although the WTO was only founded in 1995, reality still dictates a need for change – the founding framework is in need of an upgrade, fit for the age of cloud and mobile technology, as well as streaming services and AI. Some of the world's largest companies such as Amazon, Google, Facebook, Tencent and Alibaba barely produce anything tangible but are all cornerstones of the international ecosystem. Nowadays, in any given major economy, significantly more money, jobs and crucial services are riding on the tech sector compared to 17 years ago, at the outset of China's WTO accession. This in turn means that intellectual property protections, data privacy and the security and access of cyber-services are now of great importance to many economies throughout the world. And it has been argued by the U.S., the EU, Japan and others that the WTO has been slow to adapt its rules and overall structure in a way that is in step with these transformations, and in failing to do so, has left them at a disadvantage when it comes to competing with other major economies such as China. Thus, it is no surprise that this issue, along with more extensive concerns about how active China has been when it comes to embracing market-based principles and reducing government subsidies to various state-owned enterprises, were likely to be raised at the review sessions.
There has been progress in the realm of intellectual property protection in China. For example, Wang Shouwen also noted that royalties paid from China to foreign right holders increased exponentially from $1.9 billion in 2001, to $28.6 billion in 2017. For some, the progress here is viewed as still insufficient. However,  it still can't be denied that China has made remarkable progress in these areas.

Δ On July 16, 2018, Premier Li Keqiang of the state council co-chaired the 20th China-EU leaders' meeting in Beijing with President of the European council Donald Tusk and President of the European commission Jean-Claude Juncker. (Photo / VCG)
Old Flames Can Be Rekindled
 In all matters concerning trade and commerce, an interesting takeaway from the last few weeks, can actually be found not in the tit-for-tat tariff row between the globe's two largest economies, but in the actual position of many of the major powers beyond the tough talk and photo ops. Let's take the EU for example. Over the last year, much expectation had been placed on Europe's discontent over the U.S.'s protectionist impulses and how they may be eyeing further integration and cooperation with China to help act as an important counterbalance to America. Indeed, many would have been forgiven for believing this. With the EU-China Summit having just come to a close, it is important to note that Europe does now find itself cooperating with China on many fronts, the Belt & Road Initiative in particular. Not to mention that the Trump administration's recent imposition of steel tariffs on the EU, along with the fact that they are also beginning to weigh up the option of levying tariffs on German automobiles, and President Trump's continued flirtation with Europe's far right, would do its bit in paving the way for stronger Sino-European relations.
However, in many ways, it would seem as if these shows of goodwill are still yet to translate into anything meaningful. As previously touched on, there are still disagreements to be had between China and the EU, and it's here that Europe seems willing to work with the U.S. against Beijing, as illustrated throughout the WTO's recent biennial review of China on matters concerning intellectual property protection and market reform. Thus, it is paramount for China to adjust its expectations of Europe on issues affecting international trade, as the continent literally seems to be holding the middle ground between the two powers and competing philosophies, possibly switching alliances on the basis of the dominant issue of the day. On the other hand, data from Baker Mackenzie highlights how FDI from China into America has considerably dropped off by 92 percent, from $24 billion in 2017, to only $2 billion so far in 2018, to the point that Chinese FDI into Europe now exceeds that of the U.S. this year at $20 billion. Hence, Europe's political and economic affinity to China could be in store for drastic change in the near future.
The image of a collection of nations pressing against China on matters concerning trade and access echoes of another, earlier period of the Asian giant's history. The difference now is that China is in a much better position, economically and geopolitically. The nation is a lot more open and deeply integrated into the global economy than it once was, and it must continue to use its newfound position of influence in this international ecosystem to forge new partnerships and alliances which exhibit the principles of cooperation and mutual benefit, and in turn, diversify the order of things in a fashion that is unique to this century.
Timothy Lobban BA (Cantab) is a columnist of China Focus
Editor: Dong Lingyi, Cai Hairuo
Intern Editor: Yang Ruoxi
Opinion articles reflect the views of their authors, not necessarily those of China Focus