Overreaction Reveals Double Standard on the Virus Outbreak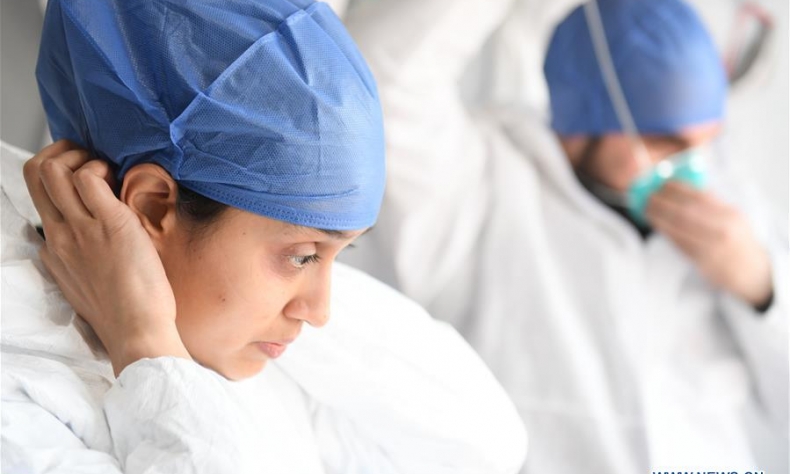 Just as the WHO said, "the main reason for this declaration is not because what is happening in China, but because of what is happening in other countries."
The Chinese people have been fighting against the pneumonia outbreak caused by the novel coronavirus (2019-nCoV) since the beginning of 2020. The great efforts across the vast country has been encouraged and praised by many states' leaders and international organizations around the world. But something notable and frustrating emerges outside China. Many overseas Chinese have been suffering xenophobia and racism in some parts of the world.
The 2019-nCoV has infected a lot of people, but its 2.1 percent mortality rate in China is far below that of infectious diseases like Ebola, SARS and MERS. The number of recovered cases is also rising.
However, some western media released racist headlines and fake news reports to the outbreak, indulging discrimination toward both Chinese nationals, overseas Chinese and even Asians. How ugly the discrimination to Chinese people is.
These despicable expressions and acts of discrimination and racism are partly caused by absurd rumors and sensational news headlines over China's epidemic and also deep-rooted bias against China.
What are worse, recent acts by the US Government should be blamed for fueling the prejudiced sentiments toward China. Some US officials have made unfriendly comments. The US Secretary of Commerce said the virus could help bring jobs back to the US. The Department of State issued a notice on January 31, raising travel advisory on China to the highest grade of warning, which is currently placed on Iraq and Afghanistan. Secretary of State even continued his vicious attack on China's system.
The World Health Organization (WHO) has emphasized many times that it recommends against any travel restriction to China after declaring the novel coronavirus pneumonia a public health emergency of international concern (PHEIC) on January 31. Just as the WHO said, "the main reason for this declaration is not because what is happening in China, but because of what is happening in other countries."
On the same day, Dr. Tedros Adhanom Ghebreyesus, Director-General of the WHO, said "travel restrictions can cause more harm than good by hindering info-sharing, medical supply chains and harming economies."
On February 3, Dr. Tedros reiterated that there was no need to "unnecessarily interfere with international travel and trade," adding that China's efforts were adequate in "protecting the Chinese people and protecting the rest of the world."
However, the US rushed to do in the opposite way, squeezing the ground for international cooperation on curbing the outbreak. The US airlines cut down or suspend their direct flights to China, making troubles for many people travelling between the two countries. Such acts have been followed by several counties. Italy suddenly announced suspension of direct flight to China on February 1, making several thousands of Chinese tourists who spend their Chinese New Year holiday in Italy stranded there. Fortunately, urged by the Chinese Government, Italy has agreed to offer help for China to pick up tourists and lift the flight suspension as soon as possible.
This shows how bad the effects by the US travel bans are. No evidence has suggested that travel bans will help fight against the coronavirus so far.
Actually, compared to the US acts in another outbreak event – the outbreak of 2009 H1N1 swine flu in the United States – it reminds people that Washington has extended double standard from international politics to international health.
In 2009, the outbreak of H1N1 swine flu happened in Mexico and the United States. According to the US Centers for Disease Control and Prevention (CDC), the first novel H1N1 patient in the United States was confirmed on April 15, 2009. By June 19, that year, all 50 states in the United States had reported novel H1N1 infection. On June 11, 2009, the WHO signaled that a global pandemic of novel influenza A (H1N1) was underway by raising the worldwide pandemic alert level to Phase 6.
CDC estimates that pandemic H1N1 influenza virus caused more than 60 million Americans infected, and led to over 270,000 hospitalizations as well as nearly 12,500 deaths.
Within two months, the H1N1 flu spread to all states in the US and became a nationwide epidemic. But the US Government did not take resolute measures to curb the spread of flu and rise of cases. For example, US airlines did not take effective prevention measures on flights. They didn't offer face masks for passengers. There was also no suggestion for people to wear face masks in public places, subways and airplanes. As a result, the H1N1 flu crossed the US border and became a global pandemic. Today, the H1N1 virus that caused that pandemic is a regular human flu virus and continues to circulate seasonally worldwide.
But the US Government has not been blamed for its inefficient governance and slow acts by any other countries and international organizations. Maybe, the US partners were not willing to do that, and some other countries dared not to do so. Meanwhile, the carelessness and inefficiency of US Government during the spreading of influenza were also ignored by sharp-nosed western media.
When three teachers and 21 students from the US were quarantined in hotel after they arrived in China in May 2009, the US State Department issued travel alert to China for possible epidemic prevention measures. But China did not issue any travel ban to the US. Neither other countries did so.
As for the novel coronavirus pneumonia, China has made utmost efforts to curb its spread and keep updating the information to the WHO and other governments. China has taken strict measures to restrict flow and movement of people during the Chinese New Year holidays. Following government's advice, most Chinese families have given up their travel plans and reunions with family members in different places.
Under the resolute leadership of the Communist Party of China and with the enormous strength of socialism with Chinese characteristics, strong rescues and preventive measures have been carried out nationwide. In Wuhan, the epicenter of epidemic, it only takes 10 days to complete the constructions of new hospitals for curing coronavirus-infected patients. With national mobilization implemented orderly, the Chinese people have great confidence of winning the battle finally.
What China is doing deserves a responsible country. But some western politicians and media ignore China's quick response to the outbreak and continue to nit-pick China with double standard.
In a highly-globalized world, neither unilateralism nor double standard would help solve common challenge. The virus doesn't identify nationalities or human races. All countries should work together to fight against the epidemic and constantly improve the medical and health level for all people sharing our planet.