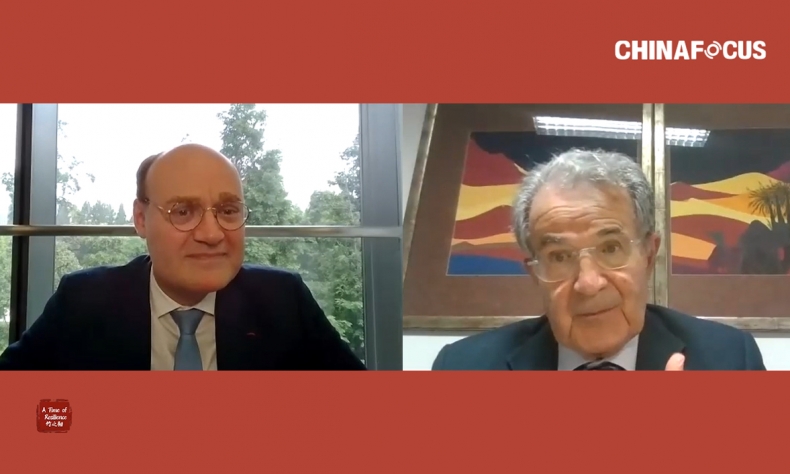 Romano Prodi: Europe and China Must Find Some Basic Progress of Common Interest
If the coronavirus does not come back, I am not so pessimistic about the future.
Editor's Note: Europe and China are two prominent pillars of the world. Despite the impact of Covid-19, the two sides maintain stable cooperation on health care. How will EU-China ties develop in the post COVID-19 era? David Gosset, the founder of Europe-China Forum, discussed with Romano Prodi, former Prime Minister of Italy, and former President of the EU Commission. Prodi shares his insights into EU-China relations and indicates the way to solid cooperation amid global uncertainties.
A Time of Resilience, hosted by Mr. Gosset, is a high-level dialogue with international veteran diplomats, business elites and outstanding scholars. The serial interviews are presented by China Focus in association with DG2CI Limited.
David Gosset: Thank you very much for accepting to be a part of this conversation for A Time of Resilience, because it seems to us that the notion of "resilience" is very important. We are going through a very severe crisis, multi-dimensional crisis. I wanted to ask you, President, are you satisfied with the level of international cooperation we have at the moment in order to tackle this crisis?
Romano Prodi: I have very personal opinions about that. First of all, the crisis is deep, is terrible, and is also unknown.  But all the pessimistic forecasts is that this will go on for many years and so on, I am much more prudent. Why? From a macroeconomic reaction, there was not a specific cooperation among countries, but the decision taken by all the big countries go in the same direction. China, the United States put a lot of resources on the table in order to tackle the crisis. The old crisis, they waited a lot, a lot before doing that. Now, the United States did, China did, and now Europe has done.
Not only is European policy in the same direction of American and Chinese policy, but also there is a single European countries' policy. If the coronavirus does not come back, I am not so pessimistic about the future. I think that in a few months, we can at least adjust the big country. What is worrying now is the spread to less developed country. Today, I am worried about India and Brazil, tomorrow maybe Kenya or maybe Nigeria.
David Gosset: In these circumstances, in these conditions, how do you see the role of the relationship between the EU and China?
Romano Prodi: Not easy in the sense that clearly the US-China tension squeezes us. Because clearly, we are linked not only militarily, but historically with the United States. This is a fact. But more and more, Europe is obliged to look at East. When I say East, it's China, but not only China. That's say, for this reason, the Silk Road is quite interesting. It reminds us of history and existing interest. So, what we can do now is to go on talking, having good relation. But I dream something more. But that is not incompatible with basic European policy, traditional policy and also friendship with the United States. What do I mean? I mean that we have increasing problems between Europe and China, not only patents, but from problems of state aids to the company problem of property (IPR).
So, we must have some common solution. Policy is never defensive. Policy is future. So, we must find some basic progress of common interest. I do think that if we work together aiding in some fields of Africa which is needed, this could be not only a political message, but also an economic message. If we decide to build 20 hospitals in Ethiopia, this is a dream, this will change the world.
David Gosset: President, you were talking about the relationship between the EU and China. When we think about the West and China, and of course I am thinking about the United States of America, there is also this lack of trust for many reasons. But I would like to ask you, because of your experience and your wisdom actually, how do we do to make sure that people across the planet, they understand better the power of collaboration? Not resilience, but collaboration, for people really to come up with collaborative mindsets.
Romano Prodi: Not easy. This is why I am insisting on the European role. You really need European-Chinese mediation, not mediation, compromise, compromise in order to solve the problems.
Note: This is the last one of ten dialogues of A Time of Resilience. You can find out more by clicking on the following links.
Abdulaziz Alfakhri: Saudi Arabia and China in a Multipolar World
David Aikman: Empathy as a Condition for Mutual Understanding and Collaboration
Bernard Dewit: China is a very good example of dynamism and vitality
Bertrand Régnier: Key Pillars for Building a Community with Shared Future for Mankind
Alicia Garcia-Herrero: Europeans Need to Forge Much More Independent Views about China
Frederick du Plessis: Pandemic Becomes the Catalyst for New Thinking about Smart Cities
Bernardo Cabot: Hotels must learn fast and adjust to the new reality in the pandemic
Kishore Mahbubani: The post-COVID-19 world will be different in three ways
Vice President of NDB: The World Should Reinvigorate Multilateralism for the New Era