Should We Trust Trump in Trade Talks? Talks Are Always Better than No Talks.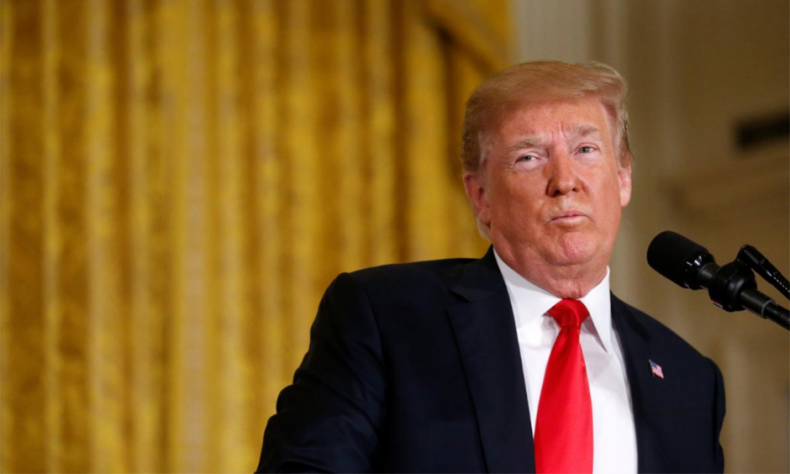 Talks are always better than no talks. Ultimately, no one really cares who took the first step because the essence of the whole matter is to contain the increasing damages to both economies.
U.S. President Donald Trump announced late Monday (September 17) his decision to impose 10% tariff on $ 200 billion Chinese goods, effective from September 24, 2018. He also announced that, the tariff rate will be lifted to 25% as from January 1, 2019, and if Chinese takes counter measures, he will impost tariff on an additional $ 267 billion Chinese goods.
China announced on Tuesday it will impose additional tariffs on U.S. products worth 60 billion U.S. dollars starting from September 24 in response to the newly announced U.S. tariffs on Chinese goods. The Customs Tariff Commission of the State Council unveiled lists of 3,571 items of U.S. products to be subject to additional tariffs of 10 percent, and lists of another 1,636 items to be subject to additional tariffs of 5 percent. The new tax rates will take effect at 12:01 p.m. Beijing time on September 24.
At this latest backdrop, let us review his very recent trade talk invitation to China. The question is: 
How much trust can you put in U.S. President Donald Trump on a scale of one to 10? I can't make a reasonable judgment because he continues his style of being an erratic maverick.
Last week, the Trump administration sent out an invitation to their Chinese counterparts to renew trade talks. Just to be clear, the invitation was initiated by the U.S. side and its Secretary of Treasury Steven Mnuchin delivered it. For some reason, Trump framed the trade talks in a way that made it seem like China wanted to talk. Larry Kudlow, White House economic advisor, recounted a similar story line.
Does Trump Want to Make a Deal, and If So, Why?
Talks are always better than no talks. Ultimately, no one really cares who took the first step because the essence of the whole matter is to contain the increasing damages to both economies.

▲ Trump tweeted: "We are under no pressure to make a deal with China, they are under pressure to make a deal with us."
Well, okay, it's true China does want to make a deal. But the real question here is: Does Trump also want to make a deal?
No one knows how to quantify a confidence rating for what Trump is doing. But interestingly enough, Trump quietly signed into law a new Miscellaneous Tariff Bill (MTB) on the same day as the above tweet. The bill, which House of Representative lawmakers passed last week, temporarily reduces or suspends tariffs on certain U.S. imports based on petitions that the U.S. International Trade Commission received from companies under the American Manufacturing Competitiveness Act of 2016. It will reduce tariffs on nearly 1,700 imported raw materials and intermediate goods used by U.S. manufacturers not produced in the U.S.
Trump's decision to sign the bill doesn't seem to fit his style. He has already levied 25 percent duties on $50 billion worth of Chinese goods and announced 10% (later 25%) tariff on $ 200 billion Chinese goods, and threatened to impose tariffs on more Chinese products in addition to the $200 billion targets.
What will MTB do? To speak fairly, the law is not country-specific, but evidently Chinese products are not excluded from the new MTB. About 150 products are among those on the list of $50 billion worth of Chinese imports already subject to import duties, according to Politico. The bill also covers roughly 1,000 Chinese products that are targeted on Trump's latest list of $200 billion worth of Chinese products.
The right way to interpret this action is that the two largest economies are so interdependent and intertwined that it is almost impossible to hurt Chinese products without doing harm to U.S. companies.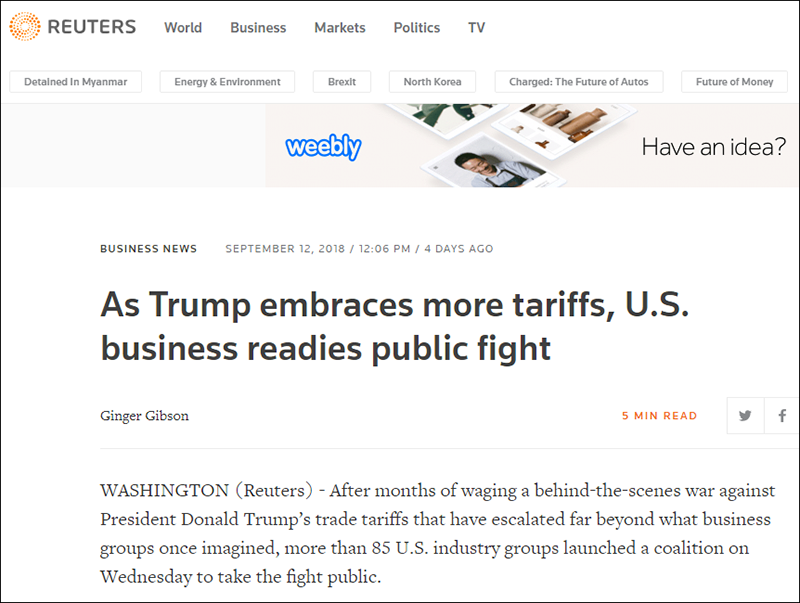 ▲ True enough, industry groups have decided to raise their voices louder against the tariffs. Reuters reported the launch of Americans for Free Trade, a coalition consisting of more than 85 industry groups.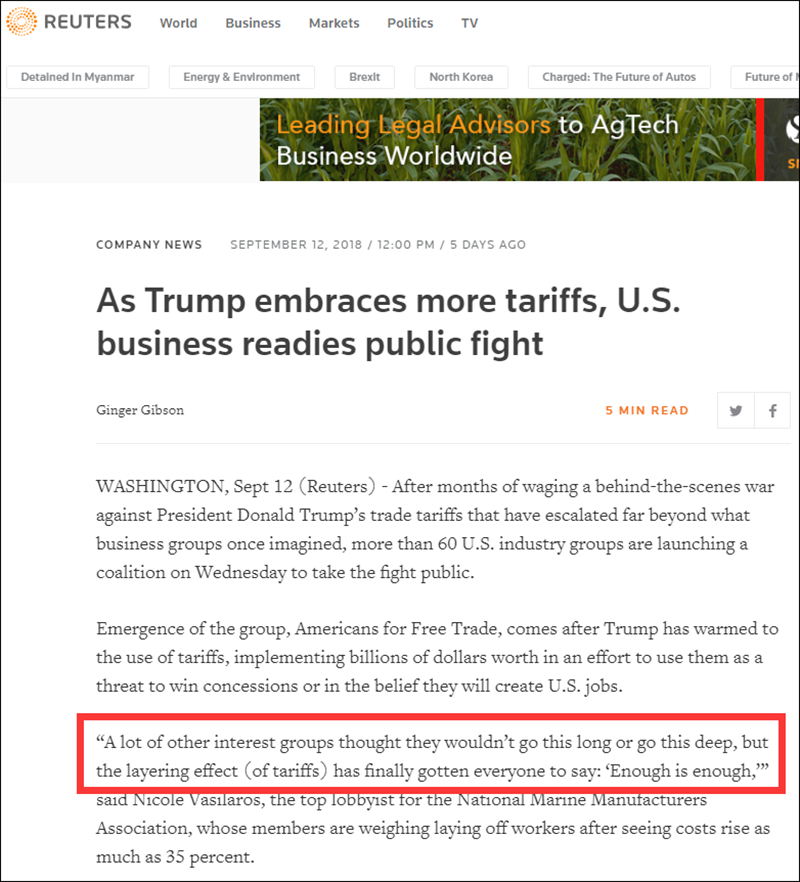 ▲ Reuters quoted Nicole Vasilaros, the top lobbyist for the National Marine Manufacturers Association, "A lot of other interest groups thought they wouldn't go this long or go this deep, but the layering effect (of tariffs) has finally gotten everyone to say: 'Enough is enough,'" adding that his members are weighing layoffs after costs rose as much as 35 percent.
U.S. business communities at large are facing similar situations. The right thing to do is to take into consideration their difficulties and adopt more business friendly policies.
$200 Billion Tariffs on Chinese Goods Precedes Talks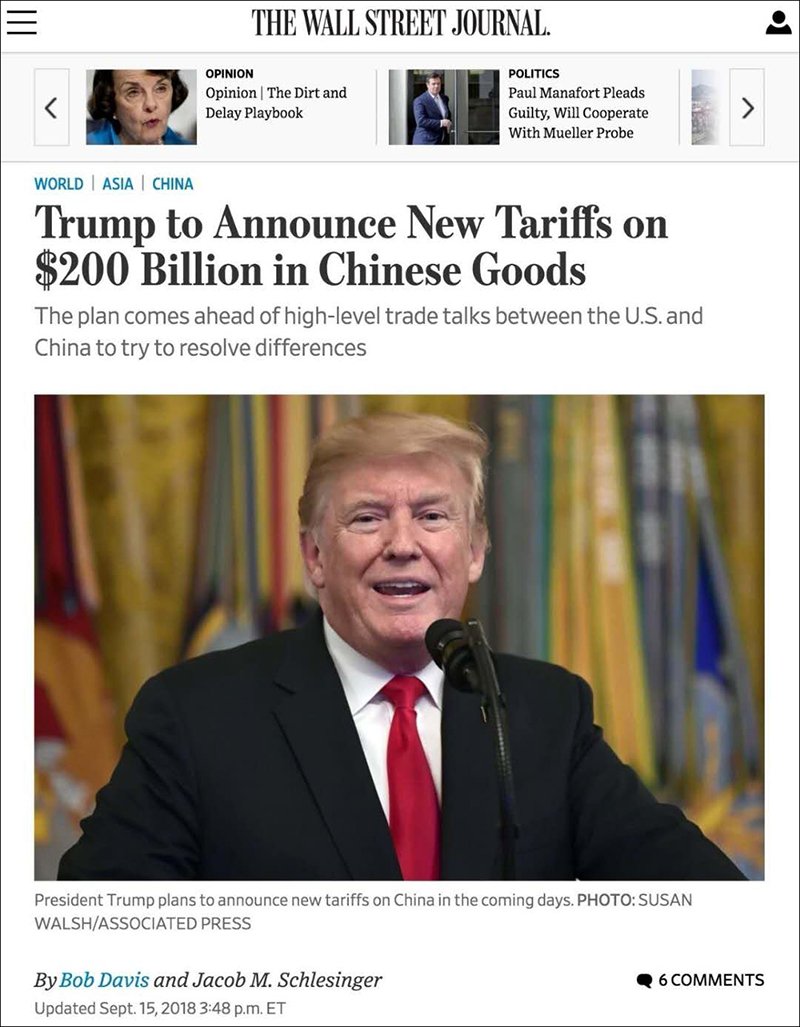 ▲ The Wall Street Journal, however, reported on September 15 that Trump is determined to go with tariffs on $200 billion worth of Chinese products. Earlier, there were also reports of Trump instructing the USTR to proceed with the tariffs.
What does this mean, particularly when an invitation for talks has been extended? How should and how will China respond?
The two countries already have slapped hefty duties on $50 billion of each other's goods.
"If the US imposes any additional tariffs on China, we will have to take necessary countermeasures and resolutely safeguard our legitimate and legal rights and interests," Foreign Ministry spokesman Geng Shuang said earlier on September 17.
MOFCOM spokesman Gao Feng said on Tuesday, immediately after the White House announcement on 10% tariff on $ 200 billion Chinese goods that the US' decision to impose $200 billion new tariffs on Chinese goods adds uncertainty to bilateral talks and forces China to retaliate.
No One Is Going to Benefit from a Trade War
No one should misjudge China's resolve, however. The message has been loud and clear: If you want to fight, we are ready. If you want to talk, the door is open.
China's Foreign Ministry and Ministry of Commerce have reiterated many times the country's position on the issue of China-U.S. trade disputes. It is clear and consistent: A trade war never resolves any problems and will only hurt the U.S. and others.
Trump is offering a revolving door policy. He displays the art for the deal, but lacks the art for the feel for U.S. businesses. He still dreams of winning the war with an old-fashioned understanding of the modern global trading system. But this time, no one is hesitating to say: No one is going to win in a trade war. 
Escalating trade tensions ahead of U.S. proposed trade talks doesn't make any sense and will not produce any positive results. Trump's paradoxical logic of trade actions are confusing in the first place and will continue to attack business confidence in the U.S.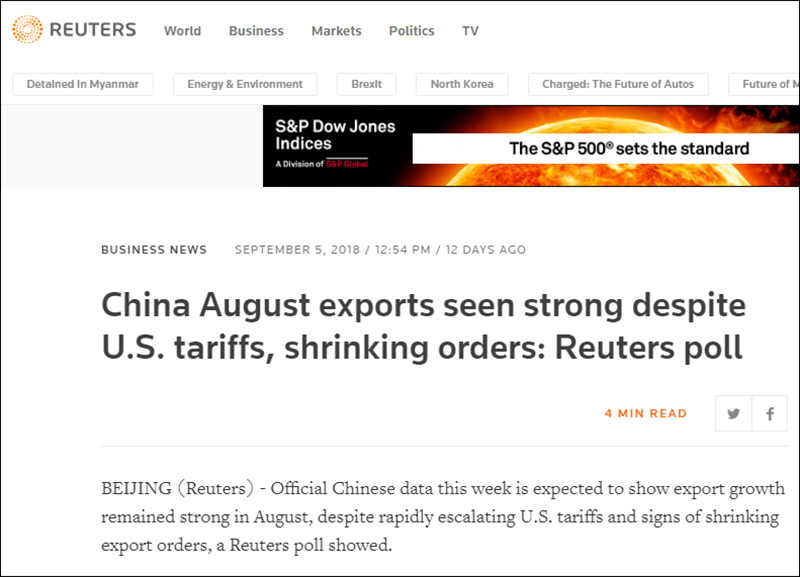 ▲ China has been doing well by the way. The latest data released by China's statistical bureau on September 14, showed that China's economy is in pretty good shape as reported by Reuters. China's exports to the U.S. have held up so far despite Trump's tariffs on $50 billion of Chinese goods.
According to Reuters, even with these tariffs going into effect for their first full month in August, Chinese shipments likely still rose 10.1 percent year on year, according to median estimates from 26 economists.
Once again, no one is going to benefit from a trade war. Escalated levies won't work in Trump's favor and are definitely not going to produce any positive impacts in new talks.
Trump has once again proved all by himself that he does not seem to deserve any trust.
Written by Li Yong, senior fellow and Vice Chair of the Expert Committee, China Association of International Trade
Edited by Sophie