The Hidden Hand Behind US Anti-Lockdown Protests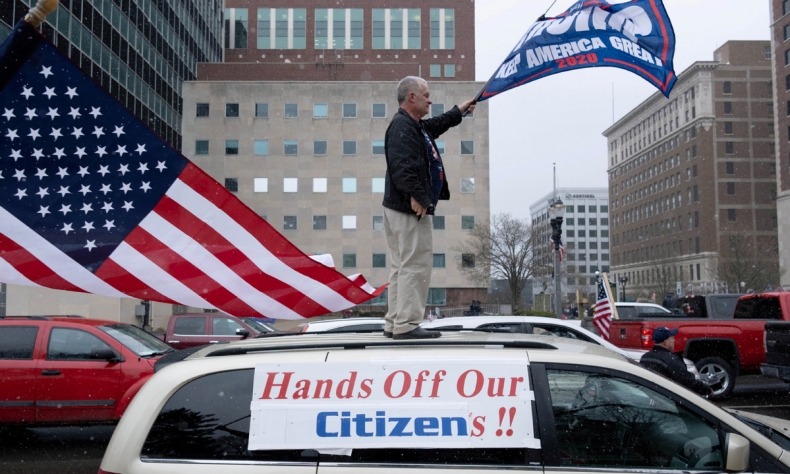 Whether a more uniting narrative of liberty versus tyranny or a more partisan narrative of public health versus the economy prevails, anti-lockdown protests look set to become an increasingly common spectacle in America.
Although most Americans support social distancing measures, anti-lockdown protests have been popping up across America for the past two weeks. With many more scheduled for the coming weeks ahead, a growing number of people have raised concern over the group's links to rightwing organizations.
Recent polls show that majority of Americans are in favor of the lockdown and are more concerned about reopening the country too quickly than they are about the damage to the economy. According to a national NBC News/Wall Street Journal poll, conducted April 13 to 15, almost 60 percent of American voters believe that relaxing stay-at-home restrictions would lead to more COVID-19 deaths. Lead pollster, Bill McInturff, said the numbers represent a "powerful signal" that the country is not ready for business as usual on May 1.
The poll also revealed a familiar partisan divide with 77 percent of Democratic respondents are more worried about the coronavirus than the economy, whilst a majority of Republicans expressed greater concern over the economy than the coronavirus itself.
The first and largest "open-up" protest was held in the northern US state of Michigan – which at that time – had the third highest number of COVID-19 related deaths in the country.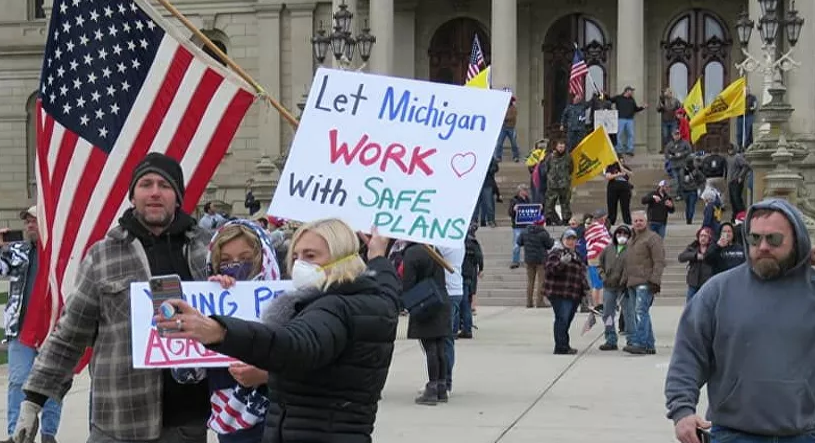 Operation gridlock
On April 15, conservative demonstrators brought Michigan's capital to a standstill with their anti-lockdown protest – dubbed "Operation Gridlock." As many as three thousand protesters defied stay-at-home orders to demand Democrat governor Gretchen Whitmer lift lockdown restrictions.
Organizers requested that demonstrators remain in their cars and adhere to social distancing policies, but many turned up on foot equipped with signs, flags, MAGA hats and rifles. Gun rights groups utilized their right to openly carry firearms as they marched outside the State legislature building.
The rally was promoted in large part by the Michigan Freedom Fund – a non-profit organization which has received more than half a million dollars from the family of Trump's education secretary Betsy DeVos. At a press briefing, Governor Whitmer told reporters, "This group is funded in large part by the DeVos family. And I think it's really inappropriate for a sitting member of the United States president's cabinet to be waging political attacks on any governor."
Fox News was also said to be instrumental in promoting the anti-lockdown demonstrations. Media watchers described the rightwing network as acting as "cheerleaders" for the Republican-affiliated protesters.
"What Fox does is it takes this very small phenomenon and not only amplifies it, but gives it a particular political meaning," said Columbia University media scholar Nicole Hemmer. "It lets people know that there are upcoming rallies — much like we saw back in the day of the Tea Party — as a way of not just throwing light on what's happening, amplifying these protests, but also encouraging them as well."
Promoted by wealthy rightwing groups and pushed by Fox News, the rally had a much bigger impact than organizers expected. Meshawn Maddock, a co-founder of the Michigan Conservative Coalition and a member of the advisory board for Women for Trump – an official arm of Trump's re-election campaign, said "We were blown away."
On the back of the "successful" Michigan anti-lockdown protest, organizers are hoping to export the model around the country. And it appears that "an informal coalition of influential conservative leaders and groups, some with close connections to the White House," want to help them, the New York Times reports.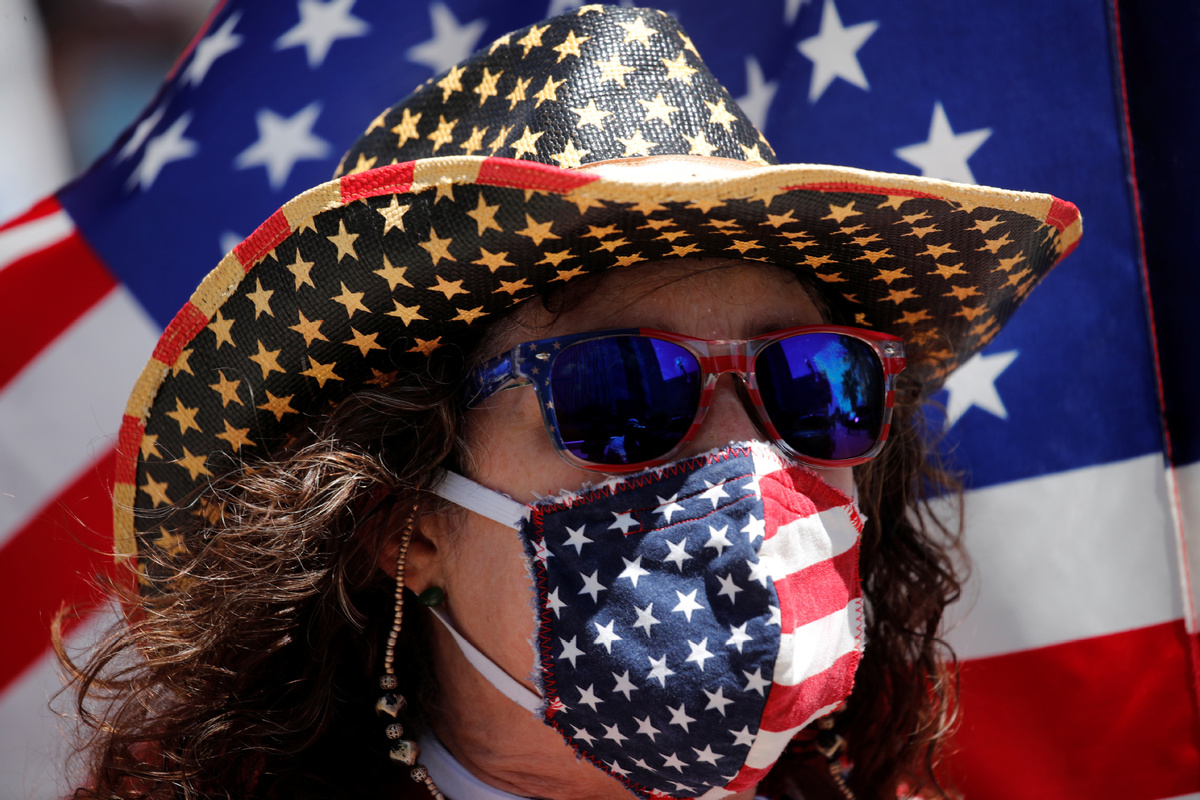 Puppet masters
FreedomWorks, an influential right-wing campaign group with extensive links to the Tea Party movement, has directed its resources to further anti-lockdown protests. Recently, FreedomWorks published a "Reopen America Rally Planning Guide," advising protesters on the best methods to ensure large participation, increase public sympathy and support, and most importantly, achieve media attention.
The #ReopenAmerica campaign calls on "FreedomWorks Activists" to "Rally at your State Capitol/Governor's Mansion", hold "In person rallies to show support for reopening businesses" and "Gather your local groups and friends to drive around with signs to show support." FreedomWorks encourages protesters to disguise support from wealthy Republican-affiliated groups such as itself by utilizing "homemade signs" featuring "non-political messages".
In addition to offering protest planning and advice guidance, FreedomWorks has compiled a list of future demonstrations which they have promoted to their five million members through emails and social media posts.
Another activist network with Tea Party origins, The Convention of States, is also expending much time and capital in the hope of expanding anti-lockdown rallies.
Mark Meckler, the organization's leader, has hosted online strategizing sessions, counselling protesters on how to best win public support. As part of Meckler's PR makeover, activists should follow common sense social distancing guidelines and avoid divisive topics which marred some of the earlier protests. Stand apart from each other, bring hand sanitizer, and most importantly, do not openly carry guns, he said in a recent live stream. "You want to create a narrative that says, 'Those people look like they're using common sense. I want to be one of them.'"
The Convention of States has also been busy buying-up URL's to expand the movements online presence. Over the past several weeks, the Convention of States has scooped up dozens of URL's to be used for sites aimed at expanding and organizing future protests in key states. OpenWINow.com, opencalifornianow.com, openfloridanow.com, and openarizonanow.com are just a small selection of the websites created.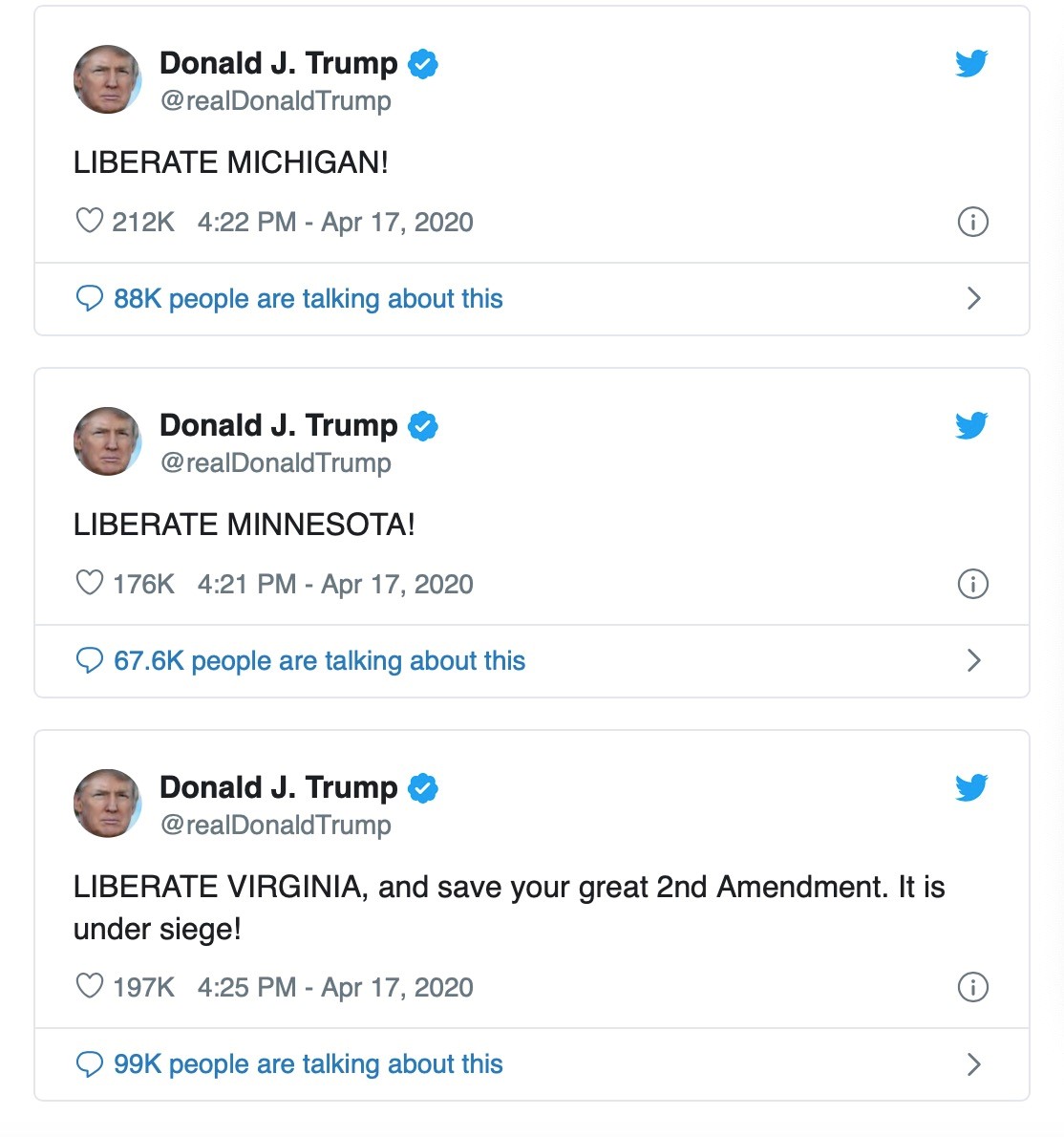 President Donald Trump hasn't exactly helped the situation either. Following the Michigan protest, Trump fired-off a succession of carefully crafted tweets aimed at his political rivals. "LIBERATE MICHIGAN!", "LIBERATE MINNESOTA!", "LIBERATE VIRGINIA!", the president tweeted.
"The trio of tweets, which target states controlled by Democratic governors, is the latest signal that social distancing has fully warped into a culture war" said US-based journalist Inae Oh.
More protests ahead
So far, protest organizers and promoters have attempted to disguise the partisan nature of the protests and instead push a narrative based on the deeply symbolic battle between liberty and tyranny.
Whether a more uniting narrative of liberty versus tyranny or a more partisan narrative of public health versus the economy prevails, anti-lockdown protests look set to become an increasingly common spectacle in America.