Trump's Threat to Pull WHO Funding Will Isolate US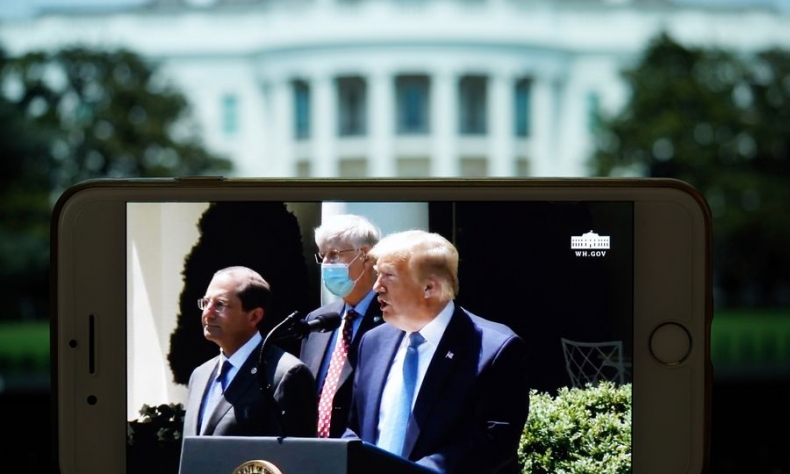 Should President Trump follow through on his threat to pull funding from the WHO in the midst of a global pandemic, the international reputation of the United States will suffer significantly indeed. For many, it will serve only to reinforce the idea that America is no longer the global leader it used to be.
Addressing the opening ceremony of the 73rd session of the World Health Assembly on May 18th, WHO Director-General Dr Tedros Adhanom Ghebreyesus, called for global cooperation and solidarity in the face of what he called, "the defining health crisis of our time."
"Nations have come together as never before, and geopolitical divisions have been thrown into sharp relief. We have seen what is possible with cooperation, and what we risk without it… There is no other way forward but together," he said.
With more than 4.5 million confirmed cases of coronavirus and 300,000 deaths reported, Dr Tedros' call for international cooperation came at a time of unparalleled importance, although it appears to have fallen on deaf ears inside the White House.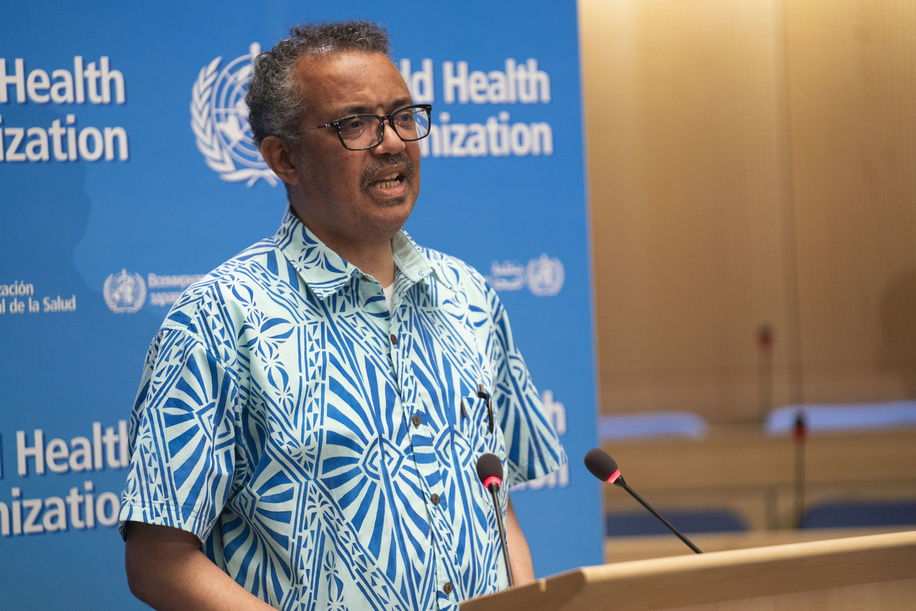 America alone
US President Donald Trump on May 19th, threatened to permanently pull funding of the World Health Organization after accusing the UN health body of being a "puppet of China."
In a letter addressed to Dr Tedros, Mr. Trump condemned the WHO over its praise of China's commitment to transparency and scolded the WHO chief over what the president labeled as "political gamesmanship".
"Your political gamesmanship on this issue was deadly," he wrote.
Ending the letter, Trump issued a strong warning and ultimatum:
"If the World Health Organization does not commit to major substantive improvements within the next 30 days, I will make my temporary freeze of United States funding to the World Health Organization permanent and reconsider our membership in the organization."
Leaders around the world slammed Trump's decision to halt funding to the WHO during a global pandemic as "reckless" and "indefensible."
EU foreign policy chief Josep Borrell captured the growing chorus of international concern. "Deeply regret US decision to suspend funding to WHO," he wrote on Twitter. "There is no reason justifying this move at a moment when their efforts are needed more than ever to help contain & mitigate the coronavirus pandemic."
China's Foreign Ministry said Washington's decision would "weaken the capabilities of the WHO, harm international co-operation against the epidemic, and affect various countries including the US itself domestically."
In the US, citizens were equally appalled at what the President is purporting to do in their name. The New York Times columnist Nicholas Kristof likened the halting of US funding to the WHO during a global pandemic to "taking away a fire department's trucks in the middle of a blaze."
"Thousands of Americans would be alive today if President Trump had spent more time listening to the World Health Organization instead of trying to destroy it," Kristof added.
Trump's unilateralist actions have of course caused much unease and concern, but are not especially surprising given his track record.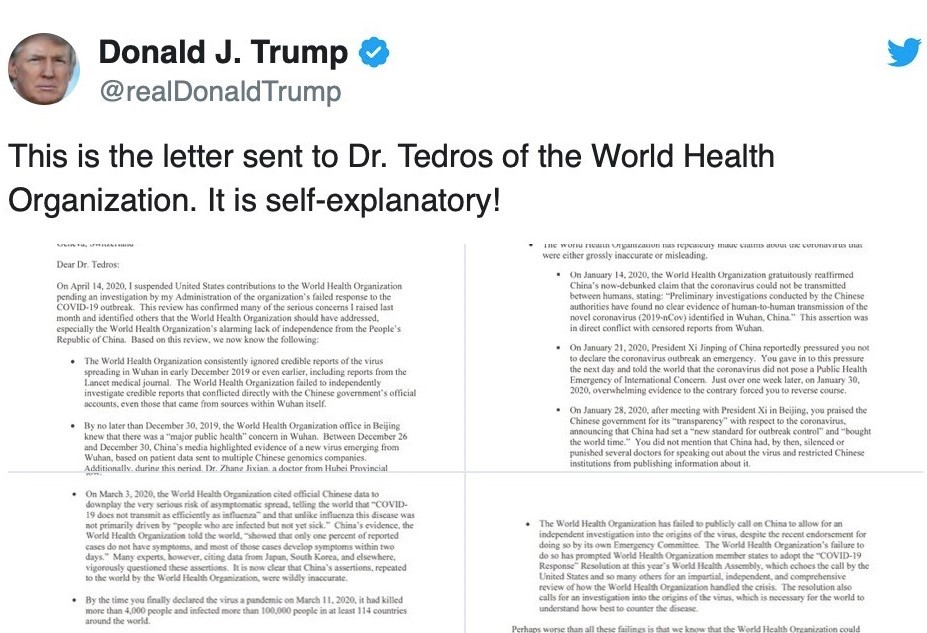 Trump's damaging legacy
Since entering the White House, Trump has withdrawn the United States from a host of UN agencies — including the United Nations Education, Scientific and Cultural Organization (UNESCO) and United Nations Human Rights Council (UNHCR) — and from such landmark agreements as the Iran Nuclear Deal and the Paris Climate Accord. In the process, Trump has dramatically reduced America's standing in the world and has scuppered its image abroad.
Ambassador Alexander Vershbow, who served as the US envoy to South Korea, Russia and NATO, is just one of many Americans who fear that Trump's damaging legacy may have lasting ramifications.
"Even if the Democrats retake the White House, it's going to take a lot of time to rebuild the habits of American leadership and to rebuild the confidence and trust on the part of our traditional allies that has been forfeited with the coronavirus and the pulling out of the WHO.
"I think that the attitudes that have been reflected in this policy of abdication of leadership now have deep roots in some parts of the American body politic and it's not going to be easy — even with a change of administration — to go back to the way things were," said Vershbow.
Should President Trump follow through on his threat to pull funding from the WHO in the midst of a global pandemic, the international reputation of the United States will indeed suffer significantly. For many, it will serve only to reinforce the idea that America is no longer the global leader it used to be.
In days gone by, it was the United States who acted as the worlds guarantor of globalization, now as the result of an increasingly inward-looking administration, it is China which is making the strongest case for free trade and support for multilateral organizations.
With regards to the coronavirus pandemic, Beijing — in stark contrast to Washington — has pledged that any vaccine developed by China will not be used to pursue vast profiteering, but will instead will be made as a "global public good."
"COVID-19 vaccine development and deployment in China, when available, will be made a global public good," Xi told the World Health Assembly at its virtual gathering. "This will be China's contribution to ensuring vaccine accessibility and affordability in developing countries."
President Xi also pledged US$2 billion over the next two years to help less developed countries in their Covid-19 responses, and to accelerate economic and social development after the pandemic has passed.
CNN succinctly captured the contrasting positions of the two presidents as follows: "The Trump administration threatened to take the UN agency off life support as it fights a global pandemic —and Chinese President Xi Jinping threw it a new life line."