UK Unprepared to Fight Coronavirus
Hospitals across England, Scotland, Wales and Northern Ireland, are suffering an acute shortage of respirator masks, eye masks, basic hygiene products and other essential private protective equipment.
According to health professionals, the UK is woefully unprepared to tackle the coronavirus pandemic. Frontline doctors and nurses have reported a severe lack of hospital beds, staff, testing and personal protective equipment (PPE).
A recent poll of more than 1,600 doctors found that more than 99 percent said they do not believe the country's National Health Service (NHS) is sufficiently prepared to handle the coronavirus.
Lack of resources
At the heart of the problems facing the NHS are staffing shortages and a lack of hospital beds.
Britain has the second-fewest hospital beds per capita in Europe, and just under half the EU average of critical care beds. With just 6.6 critical care beds per 100,000 people, the UK falls far behind less economically developed countries such as Latvia, Bulgaria and the Czech Republic. Journalist Max Pemberton, captured the precarious nature of the UK health service. "We have fewer beds, fewer nurses and fewer doctors per patient than the rest of Europe," he said.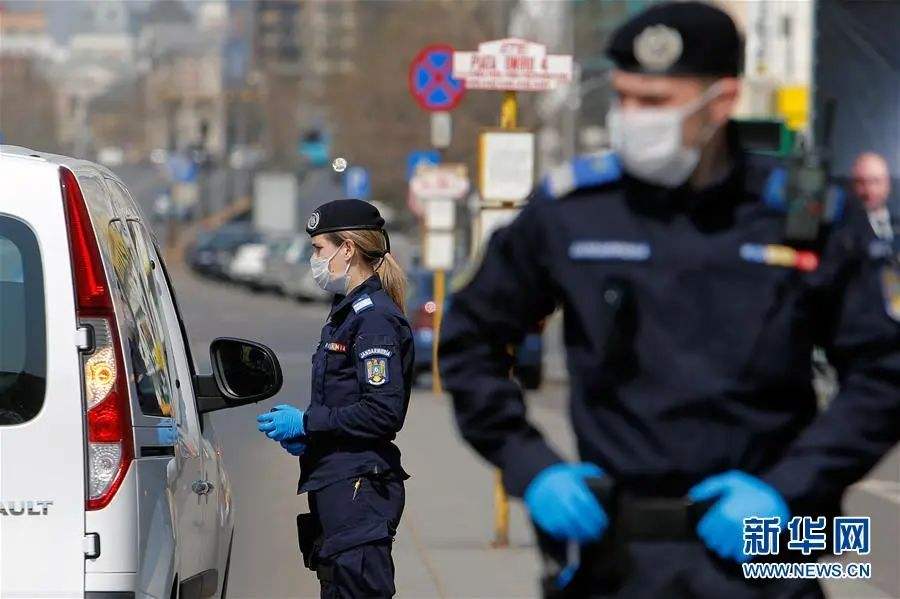 Latest figures show that in England alone, there are now 106,000 vacancies across the NHS, including almost 10,000 doctor and more than 44,000 nurse vacancies. Accident and emergency waiting times are "the worst on record," people are dying on trollies in hospital corridors and intensive care units are running at capacity. On any given day in the UK, the occupancy rate for intensive care beds stands at around 90 percent – much higher than the advice from medical professionals who recommend regular occupancy to be no higher than 70 percent. Additionally, public service union Unison reports that nine out of ten health leaders say that as result of understaffing, patient safety and care is at risk.
Lack of protection
Doctors and nurses working on the frontline are themselves also at risk due to a reckless lack of personal protective equipment (PPE). Hospitals across England, Scotland, Wales and Northern Ireland, are suffering an acute shortage of respirator masks, eye masks, basic hygiene products and other essential protective equipment.
Some hospital staff have been forced to improvise their own protective equipment and others are said to be calling in sick due to fears that provisions are inadequate. Such fears are likely to have increased further as Dr. Amged El-Hawrani became the first frontline hospital worker in the UK to die after contracting coronavirus.
A leaked report shows an acute shortage of protective equipment for healthcare workers dealing with the coronavirus outbreak in Northern Ireland. The Guardian which has viewed the leaked report document said "item after item" of personal protective equipment (PPE) were listed as "out of stock."
One doctor at a Greater Manchester based hospital compared the situation of healthcare workers in the UK forced to work without adequate protective gear to sending a soldier to war without the necessary equipment. "You wouldn't send a soldier out without the necessary equipment so why are healthcare professionals not being provided the adequate PPE?" he said.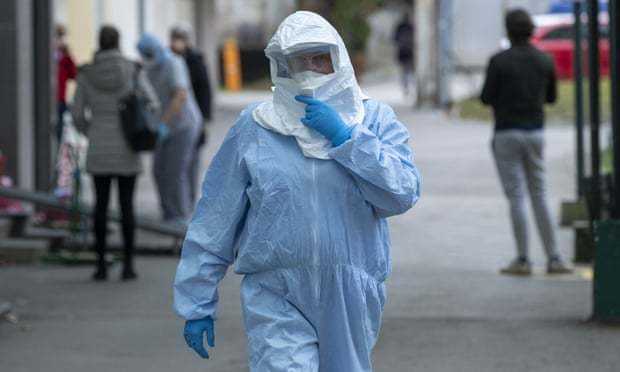 Dr. Rinesh Parmar, the chair of the Doctors' Association UK, recently appealed to the British Prime Minister Boris Johnson on national TV to give medical workers the necessary protective equipment they so desperately need. "We are all pleading with Boris Johnson that [the government] really look into arranging the vital personal protection equipment that all of us need on the NHS frontline," he said.
A national scandal
Richard Horton, editor of the UK medical journal The Lancet, called the government response to the coronavirus "a national scandal." He said that health workers are being sent to the frontlines "without the armor they need to defend themselves."
"We shouldn't be in this position. We knew in the last week of January that this was coming. We wasted February when we could have acted. Time when we could have ramped up testing, time when we could have got PPE ready and disseminated, we didn't do it."
A report in the Guardian recently revealed that the Department of Health, rejected high-level medical advice to provide NHS staff with certain protective equipment during an influenza pandemic because "stockpiling it would be too expensive."
In addition to the gut-wrenching lack of protective equipment, government policy has – until recently – prohibited doctors and nurses from being tested for the deadly and highly contagious respiratory disease. Fortunately, the incredibly incompetent policy was reversed just days ago after it was revealed by news outlets that frontline staff were being forced to enter the accident and emergency departments of their own hospitals in order to access testing. With the World Health Organization (WHO) advising countries to scrupulously test those suspected of infection, it can only be assumed that cost plays large factor in the UK government's decision to follow a different path.
The decision to put the bottom line before patient safety sadly is not a new phenomenon confined to the coronavirus pandemic; it has been a worrying trend for over ten years.
A decade of cuts
Under the umbrella of austerity (and furthered by an ideological crusade against the public sector), successive conservative governments have systematically starved the UK's proudest asset – the NHS – of the resources required to keep the British public and its staff safe.
Throughout the 70 year history of the NHS, government spending on healthcare has increased by almost four percent every year. Such an increase has been necessary in order to keep-up with the country's growing population and the increasing prevalence of chronic conditions. However, over the last decade, health spending growth has plummeted to only 1.6 percent a year since 2011/12. Looking at growth as a percentage of GDP, the Health Foundation reports that the nine year period since 2009/10 is "the lowest" since the first decade of the NHS.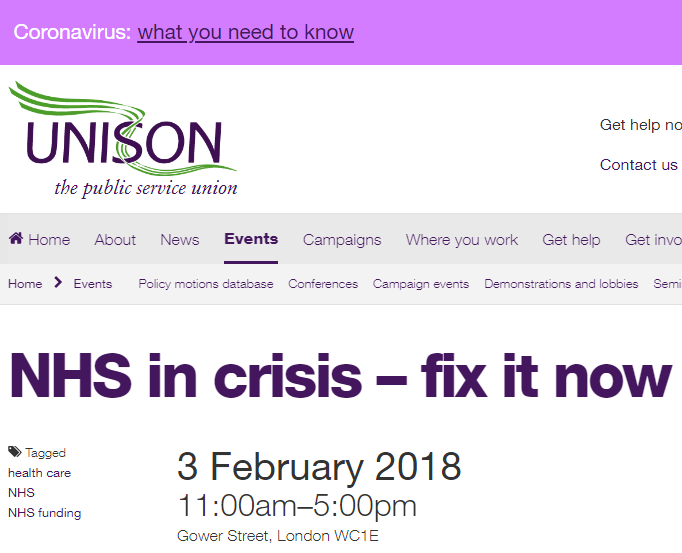 The writing has therefore been on the wall long before the coronavirus pandemic struck. Back in 2018, thousands of people took to the streets of central London and called on the British government to end health service budget cuts and allocate more money to the desperately struggling NHS. The demonstration titled "NHS in crisis: Fix it now", saw protesters bearing placards reading "more staff, more beds, more funds" and "Saving lives cost money. Saving money costs lives."
Also in 2018, three of the largest independent health bodies in the UK penned an open letter to the government calling for NHS funding to be increased. The letter read, "All authoritative independent analysis undertaken in recent years, including estimates based on the Office for Budget Responsibility's projections, indicate that the NHS needs real terms funding increases of around 4 per cent a year. This is the minimum required to keep pace with rising demand."
The British government did not listen. Accordingly, the UK now faces "the biggest healthcare crisis of a generation" in which it is fantastically unprepared. Boris Johnson has conceded that "many will lose loved ones to coronavirus."
But with a radical free-market ideology at the root of a decade of underfunding and neglect, I am inclined to wonder whether future generations will be so forgiving as to blame coronavirus as the cause of the "many" deaths. Given that a significant proportion of the ensuing deaths would have been entirely preventable if only the nations heath infrastructure had not been starved of resources will future historians not attribute the cause of death to "social murder" instead?