What If China Hadn't Proposed the Inclusion of Undeveloped African Countries in the B&R Initiative?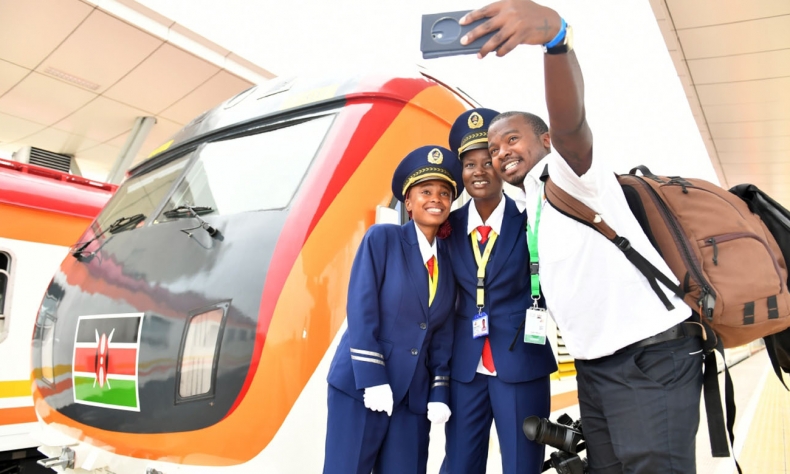 What is the alternative to China's role in developing the infrastructure of African countries and establishing industrial zones? To all the countries that criticize China's role in Africa, particularly the United States, have you offered an alternative solution to African problems?
Did China make a mistake when it decided to include poor African countries in the Belt and Road Initiative?
Should China ignore these countries because they are impoverished and unable to pay for the development of their infrastructure?
Is China required to deal only with rich countries and ignore poor ones?
What is the alternative to China's role in developing the infrastructure of African countries and establishing industrial zones?
To all the countries that criticize China's role in Africa, particularly the United States, have you offered an alternative solution to African problems?
What is an alternative choice for African countries to achieve the development and well-being of their peoples?
To all critics of the B&R Initiative, can you answer these questions first?
For decades Africa has fallen under Western hegemony and tutelage, and Africa's development has not yet been achieved. Instead, the gap has widened between Western countries and African ones, particularly the gap between the United States and African countries.
What Is the B&R Initiative Philosophy?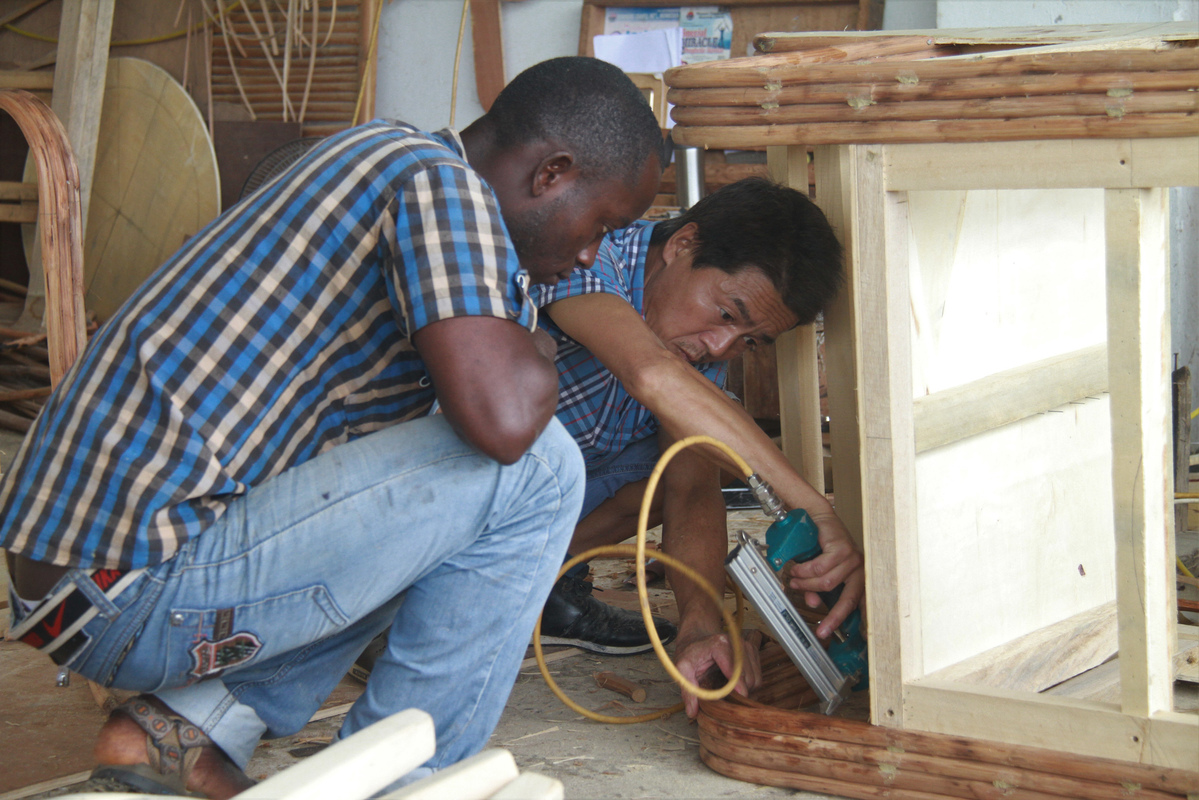 Δ A Chinese carpenter shows a Liberian colleague how to make rattan furniture at a training center in Monrovia, Liberia, on Aug 20. [Photo/Xinhua]
The B&R Initiative is a far-sighted plan aimed at improving global supply chains and trade through strengthening connectivity and capacity building.
China and Africa have cooperated across various fields, not only in resources and trade but also in infrastructure, industrial cooperation and connectivity integrated with the sustainable African development agenda.
Under the framework of the Belt and Road Initiative, many major Chinese-assisted infrastructure projects in Africa are creating jobs for local communities, training local workers and sharing China's experience of operating industrial parks and attracting investment.
Combined development of African countries would allow those countries to take part in globalization and benefit more from the global value chain, thus gaining access to a proper chance for self-development and making greater contributions to global economic growth.
Great Development Has Already Taken Place on the African Continent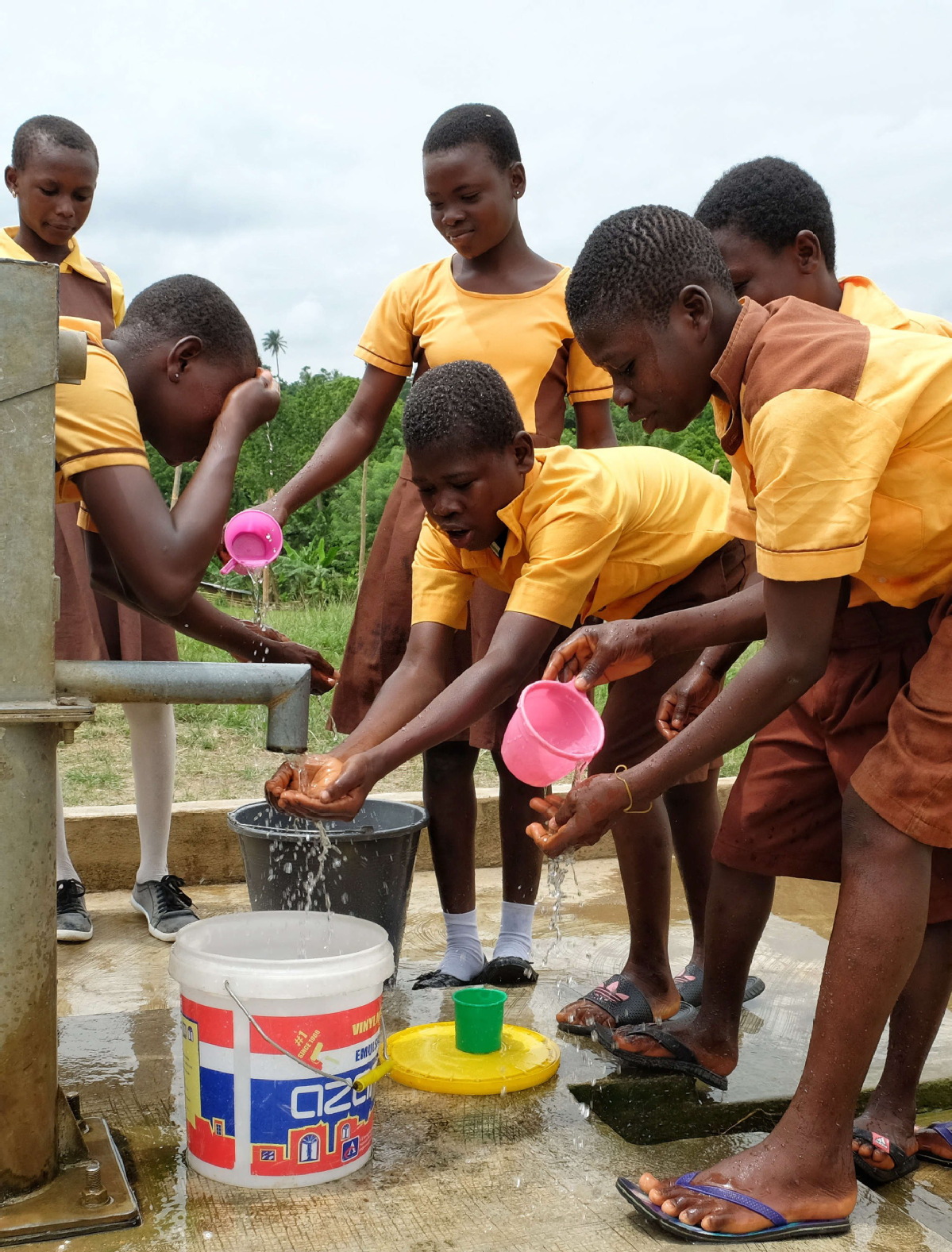 Δ Children fetch water from a well in Guayotse village, Ghana, in June. The Chinese government provides 1,000 wells for hundreds of rural communities in six out of the 10 regions of the African country to bring clean water to the local people. [Photo/Xinhua] 
China has made a great contribution to finding solutions to the African dilemma. A lot of African countries have long suffered from being landlocked, which has stood as a main obstacle hindering their development chances. China has developed huge plans for railway projects linking these countries together and enabling them to enjoy access to ports, easing trade flows and sparking long-awaited development projects.
Some notable successful projects have already been carried out and some others are underway.
In Nigeria a 1,400km coastal railway now links Lagos in the west to Calabar in the east.
Kenya's largest-ever infrastructure project, a 472km railway from Mombasa port to the capital Nairobi, has been completed. This line will later be part of East African rail network that will connect landlocked Ethiopia, South Sudan, the DRC, Uganda, Burundi, and Rwanda to the Indian Ocean.
Ethiopia's 756km Addis Ababa-Djibouti railway connects the country's capital to the port in neighboring Djibouti on the Red Sea. Angola's Lobito-Luau railway stretches 1,344km, right up to Angola's border with the DRC. The long-term goal is for Lobito-Luau to link up with the Angola-Zambia and the Tanzania-Zambia railways, thus connecting two of the world's three most important oceans by rail.
China has established a large number of power plants and industrial zones in African countries including Zambia, Mauritius, Ethiopia, Nigeria, Uganda and Egypt. These projects have allowed Africa to increase its production and exports.
China had contributed to all three sides of the development triangle — infrastructure, power plants and industrial areas. Without these three project types, no country can achieve development.
U.S. and Some Western Countries Are Critical of the B&R Initiative

Δ A patient is overwhelmed as his sight is restored after an operation in 2010 at a hospital in Harare, Zimbabwe. Chinese medical teams were sent to Zimbabwe to tackle eye disease. [Photo/Xinhua]
Ray Washburne, president and CEO of the U.S. development finance institution OPIC, said in Johannesburg on July 16, 2018 that China is saddling poor nations with unsustainable debt through large-scale infrastructure projects that are not economically viable.
Chinese officials explained that B&R construction projects go through scientific feasibility studies and strict loan reviews, with binding requirements on the proportion of property investment to total investment, asset-liability ratio and capital return. These requirements mean that these projects don't constitute an economic burden on countries since they are able to pay off these debts and in the long run achieve sustainable returns.
Secondly, the Sub-Saharan Africa external debt stocks percentage has decreased. According to World Bank international debt statistics from the period just before the start of the B&R initiative (2008-2012), the average rate of increase of external loans to Sub-Saharan African countries was 11%, whereas in the period from 2013 to 2016, the rate of increase of external loans was 6.5%. That means the pace of the external loans did not increase, and in fact decreased.
Third, leveraged corruption has been avoided. A study of 39 African countries from 1970 to 2010 found that for every dollar borrowed, up to 63 cents left the continent within five years. The money is often siphoned out as private assets, suggests Léonce Ndikumana, a researcher based at the University of Massachusetts. But in the case of the B&R, loan money has been turned into real projects benefiting the people of African countries.
Fourth, China is far from the largest creditor in the long history of debt in Africa. The largest creditors in the history of the continent are former colonial powers like France, Great Britain and the United States. Some of this debt belongs to multilateral organizations like the World Bank and the IMF. China is a latecomer compared with others.
Fifth, infrastructure projects have long-term effects. Although it may take longer to get a full return on investment for some, these projects remain valuable assets and their prices will eventually rise with inflation. In the future, it could become impossible to build such projects due to continuous price rises.
Finally, the B&R initiative will make the African continent attractive to investors from all over the world. It will enable Africa to achieve a rapid leap in growth rates, enabling it to pay off all its debts quickly.
Hisham Abu Bakr Metwally is the First Economist Researcher at the Central Department for Export & Import Policy under the Egyptian Ministry of Foreign Trade and Industry
Editor: Cai Hairuo
Opinion articles reflect the views of their authors, not necessarily those of China Focus