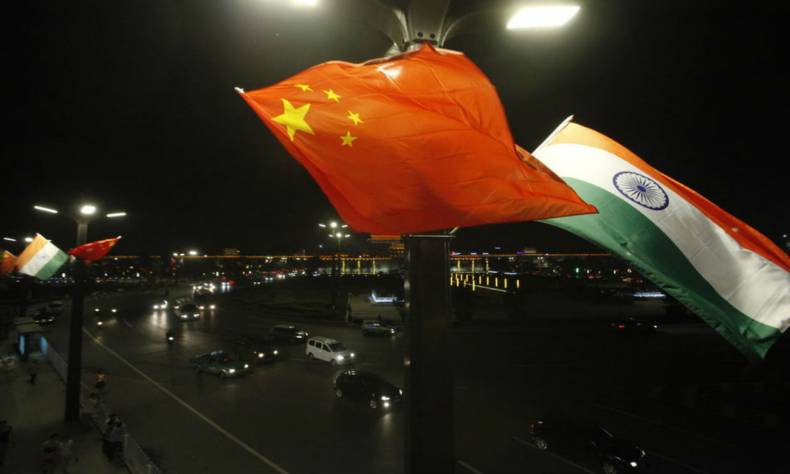 Xi-Modi Meeting – New Start for China-India Relationship
On September 5, 2017, when Xi met Modi at the Xiamen BRICS heads meeting, the confrontation on the China-India border had just been solved, and the emphasis of Xi's speech at the time was China-India relations.
By Ma Jianying
An informal meeting between China's president Xi Jinping and Indian Prime Minister Narendra Modi was held in Wuhan, China on April 27-28, 2018.
On September 5, 2017, when Xi met Modi at the Xiamen BRICS heads meeting, the confrontation on the China-India border had just been solved, and the emphasis of Xi's speech at the time was China-India relations.
The situation is different now, according to Wang Yi, the Foreign Minister of China, and the meeting focused on a strategic discussion regarding the great and unheralded changes the world is currently undergoing, and an exchange of views on long-term and strategic issues concerning the future development of overall China-India relations.
With no set theme, the meeting was candid and constructive. Both parties had a lengthy face to face discussion on ideas over long-term, overall, and strategic issues that concern the two countries, and other international affairs.
Bilateral Relationship Back on Track
In its early days Modi's government pursued a pragmatic diplomacy based on India's own interests, which underlined realpolitik on foreign policies and was endowed with a strong sense of nationalism.
Since 2016, anti-China hardliners have gradually seized the initiative in Modi's government, and started taking a tough posture on diplomacy over China issues.
Against this backdrop, India has provoked several disputes with China over issues both old and new, including territory, Tibet, Taiwan, the South China Sea, the China-Pakistan economic corridor, the Nuclear Suppliers Group, and conflict with Pakistan over Masood Azhar.
The confrontation in Donglang last June in particular posed a serious threat to China's territorial integrity and national security, and led to a lengthy deterioration in bilateral relations.
Out of its own need to stabilize relations with China after the Donglang issue, the Indian government started taking a series of positive actions to adjust its policies towards China:
India repeatedly sent out positive information on enhancing cooperation with China; the Foreign Ministry banned government officials from participating in events held by supporters of the Dalai Lama; official sources regularly issued communiques about scheduled visits to China by the Indian Prime Minister, Foreign Minister and Defence Minister; India maintained positive interactions with China over issues concerning Tibet, the China-India border, and the situation in Maldives; India proactively proposed an informal meeting in Wuhan, China…
Towards these signals which manifest India's will to improve China-India relations, China had also given positive responses.
China made it possible for Modi's participation at the BRICS heads summit, held a successful 5th China-India Strategic and Economic Dialogue, and accepted India as a formal member of the Shanghai Cooperation Organization.
Through the joint efforts of the two countries, the China-India relationship is once again back on track.
No Ground for Unfriendly Cooperation
From the domestic perspective, friendly cooperation between China and India benefits the peoples of both countries.
As developing countries, China and India are both in a key phase of accelerating economic growth, driving deeper, all-round reform, and promoting modernization. China has entered a new era of socialism with Chinese characteristics, and the 19th National Congress of the CPC has pointed out a new direction for building a great modern socialist country.
India has also launched an equivalent "Three Year Action Agenda" and is creating the blueprint of a "New India" of 2022 and a 15-year development plan. China's leadership has emphasized many times that China will continue reform, expand the scale of opening up, and actively establish a closer cooperative partnership with neighboring countries including India.
India mentioned China several times in its national development plan and expressed its will to learn from China's experience of setting up economic special zones and Confucius Institutes.
In general, the two countries share similar development goals and planning periods, thus unfolding good chances of progressing together.
Friendly cooperation between China and India is of global significance.
Both are great emerging developing countries, and both are confronted with problems of integrating with the existing international order which has long been dominated by the western developed countries, and of how to correct the unjust and irrational components of these systems, so as to secure their own rights and interests as far as possible.
Especially against the backdrop of growing anti-globalization and trade protectionism in recent years, it is important, even essential, for China and India to promote economic globalization, protecting free trade principles, and tackle the challenges imposed by climate change together.
Balanced and Well-rounded Future Development
In the future, the two countries still need to strengthen cooperation in several fields, including policy, economic, and people-to-people exchanges, and promoting balanced and well-rounded development.
First, enhance political and strategic mutual trust.
Strategic mutual trust is fundamental for establishing a long-term stable relationship between two countries.
Leaderships of the two countries should fully recognize that their common ground is greater than their differences, and that common interests are greater than frictions. The two countries should commit themselves with determination to cultivating strategic mutual trust.
As President Xi pointed out, healthy and stable relations between China and India are in line with the fundamental interests of their people and are also in line with the expectations of the region and the international community. China and India should see each other as development opportunities rather than threats; peaceful coexistence and win-win cooperation are the only sensible choice for the two countries.
Second, promote and optimize trade relations.
Last year China-India bilateral trade amounted to more than 80 billion USD, which represented a new historical peak. China continued to be the largest trade partner to India, and India was the largest contracted project market to China in South Asia, and the second largest recipient of China's investment in that region.
Even though trade relations between the two countries are getting closer, compared with the general economic activity and market potential of the two countries, there is still plenty room for the promotion of mutual economic exchanges.
However, while trade is thriving, the problem of trade imbalance, especially India's trade deficit with China, are looming large.
According to statistics from the Indian side, India's trade deficit with China was almost 60 billion USD last year, an increase of 15.2%, the biggest imbalance with any country. To tackle this problem, both parties need to adjust inequities in the bilateral trade structure and establish better-balanced trade relations.
Third, greatly strengthen people-to-people exchange.
To date, China and India have established 14 sister provinces and cities, with 42 flights shuttling between the two countries every week and bringing millions of people-to-people exchanges every year.
However, China-India people-to-people exchanges is at a rather low level compared with other Chinese neighboring countries, including China-Japan and China-South Korea. In fact, the scale of such exchanges is quite disproportionate in relation to the immense populations of the two countries.
Hence, China and India should constantly expand channels for people-to-people exchanges and enhance the government support in the future.
Ma Jianying, director of Center for Maritime Safety Studies, Shandong Normal University; research fellow of the Charhar Institute.
Editor: Zhang Jing, Cai Hairuo