An Era of Prosperous Sino-African Economic and Trade Cooperation
President Xi Jinping has just embarked on a new visit to Africa, boosting Sino-African relations to a stage of growth unmatched in history.
President Xi Jinping has just embarked on a new visit to Africa, boosting Sino-African relations to a stage of growth unmatched in history. Since the founding of the People's Republic of China in 1949, Chinese leadership have always attached great importance to Sino-African relations and economic and trade cooperation. China has consistently provided African countries with assistance to the best of its capacity without any political condition, in an effort to lift African people out of difficulties and realize economic and social development. China encourages and supports Chinese enterprises to go to Africa for investment and cooperation through setting aside special funds and providing concessional loans. Meanwhile, African countries have always welcomed cooperation with China and joint participation in all Chinese initiatives. 16 African presidents have visited China in the past five years and Africa has welcomed trade with China.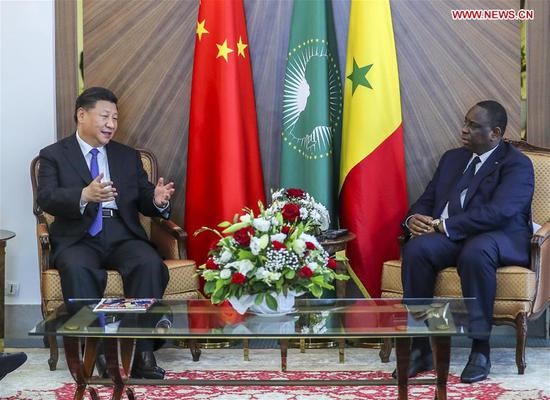 Δ Chinese President Xi Jinping and Senegalese President Macky Sall hold talks in Dakar, Senegal, July 21, 2018. (Xinhua)
China's "Belt and Road" Boosts Africa's Development
In 2013, Chinese President Xi Jinping set out the strategy of building the Silk Road Economic Belt and the 21st Century Maritime Silk Road, also known as the "Belt and Road Initiative." The concept links the Chinese Dream to the global dream and has far-reaching strategic significance. The "Belt and Road" is a massive trade and infrastructure project that aims to link China physically and financially to dozens of economies across Asia, Europe, Africa, and Oceania.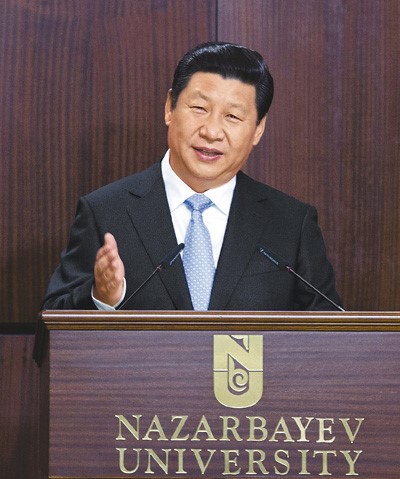 Δ Chinese President Xi Jinping raised the initiative of building "the Silk Road Economic Belt" at Nazarbayev University in Kazakhstan, September 7, 2013.
As of January 2018, 70 countries have been taking part in the project, and nine of them are African countries. In December 2015, Xi announced 10 major China-Africa cooperation plans to boost cooperation with Africa. The big package covers areas of industrialization, agricultural modernization, infrastructure, financial services, green development, trade and investment facilitation, poverty reduction and public welfare, public health, people-to-people exchanges, and peace and security. President Xi announced that China would offer US$60 billion of funding support, including US$5 billion of free aid and interest-free loans, US$35 billion of preferential loans and export credit on more favorable terms, US$5 billion of additional capital for the China-Africa Development Fund and the Special Loan for the Development of African SMEs each, and a China-Africa production capacity cooperation fund with an initial capital of US$10 billion. According to a Chinese Ministry of Commerce report, more than two thirds of the ten cooperation plans have now been completed.
3,100 Chinese companies have been working on important and strategic projects in a number of African countries,  and six special economic zones have been set up by China in Africa, namely: Chambishi, Zambia (copper and copper related industries), Lusaka, Zambia (garments, food, appliances, tobacco and electronics), Chambishi zone, Mauritius (manufacturing, textiles, garments, machinery, high-tech, trade, tourism and finance), Oriental, Ethiopia (electrical machinery, construction materials, steel and metallurgy), Ogun, Nigeria (construction materials, ceramics, ironware, furniture, wood processing, medicine, and computers), Lekki, Nigeria (transportation equipment, textiles, home appliances, telecommunications, and light industry), Suez, Egypt (petroleum equipment, electrical appliance, textiles and automobiles). Such zones allow Africa to increase its production and exports and improve the quality of life of millions of Africans.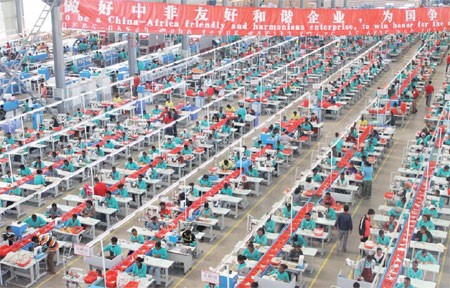 Δ Staff at Huajian Group's Ethiopian plant.
Here are some examples of Chinese investment in some African countries. In Nigeria, Yuemei Group invested US$1.2 million to establish a domestic manufacturing branch in 2006, and US$50 million in 2007 to establish a textile industrial park with a complete production chain. By 2009, the park housed 5 textile companies and employed 1,000 local workers. The group cur­rently operates 10 factories, with sales offices in other countries, and has set up another factory in Senegal. In 2012, the total stock of Chinese investment in Tanzania was US$541 million. Most private Chinese companies are engaged in low-tech, labor intensive industries, producing mainly for the local market. They have created 80,000-150,000 jobs, many providing on-the-job managerial training. Several local entrepreneurs have established businesses after working for Chinese firms. In Ethiopia, Huajian Group invested about US$10 million to estab­lish a shoe factory. Prior to starting operation, it sent more than 90 employees to China for technical training. The factory opened in 2012 and made a profit as soon as 2013, when its 3,500 work­ers produced 2 million pairs of shoes.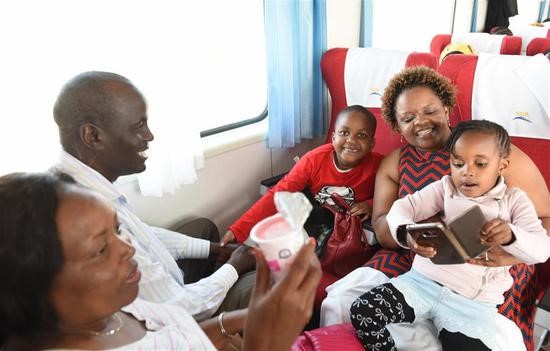 Δ Passengers take a train from Nairobi to Mombasa along the Mombasa-Nairobi Standard Gauge Railway (SGR) in Kenya, on June 9, 2017. (Xinhua)
Sino-African Trade Relations Reflect A Common Future
China and Africa continued extending bilateral trade and upgrading facilitation level. In 2017, the trade value between China and Africa amounted to US$170 billion, up 14% year on year. Among these, China's imports from Africa grew rapidly with a value of US$75.3 billion, up 33% year on year. The main products are fuels, mineral oils, bituminous, ores, slag, ash, precious metals, copper, wood, etc. China's exports to Africa registered US$94.7 billion, up 3% year on year. The main products are machinery, equipment, televisions, vehicles, steel, plastics, footwear, furniture, etc. China's trade value with its three largest trading partners—South Africa, Angola and Nigeria—grew up by 12%, 45% and 30% respectively year on year. China's investment in African countries now amount to about US$100 billion. From the trade figures, it's obvious that there is no high trade deficit between China and Africa which means win-win trade relations.
When Chinese president Xi launched the "Chinese Dream" slogan, he may also have meant the African dream, and when he talks of "common future," he also means China and Africa's future. As we have witnessed in the nearly six years of the current Chinese president's leadership, there has been unprecedented convergence of Sino-African relations and it's sure that in the near future, the two sides will rightly celebrate all the initiatives and plans that have been developed between African countries and China to achieve prosperity for all.
Hisham AbuBakr Metwally, First Economist Researcher at the Central Department for Export & Import Policy under the Egyptian Ministry of Foreign Trade and Industry
Editor: Cai Hairuo
Intern Editor: Shou Pan
Opinion articles reflect the views of their authors, not necessarily those of China Focus
Related Reading:
Xi Jinping's Visit Will Push Sino-African Cooperation to a New High