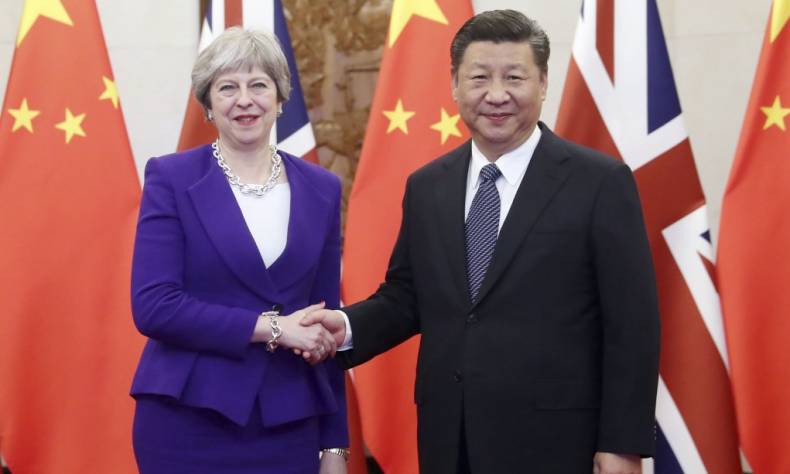 Theresa May Seeking Greater Cooperation on The Belt and Road after Brexit
British Prime Minister Theresa May's there day visit to China yielded considerable fruits for both countries, propelling the bilateral cooperation into a new era, promoting China-UK relations, and enhancing mutually-beneficial, practical and open development.
By Yang Fang
British Prime Minister Theresa May's there day visit to China yielded considerable fruits for both countries, propelling the bilateral cooperation into a new era, promoting China-UK relations, and enhancing mutually-beneficial, practical and open development.
Several "Firsts"
This is the first official visit of Theresa May to China since she took office, and also her first in-depth and well-rounded trip, allowing her to get to know more about China's politics, culture, and economy by visiting Beijing, Wuhan and Shanghai.
The delegation that accompanied Theresa May was the biggest of her administration, involving business leaders in finance, technology, medicine, automobiles, energy, food and education… And this was also the first time her husband Philip May accompanied on a bilateral exchange event.
Before the visit, authorities in both China and UK made unprecedented efforts to ensure its success.
Between late 2017 and early 2018 three major events took place: the China-UK Regional Leaders Summit, high-level China-UK people-to-people exchanges and UK-China Economic and Financial Dialogue; Chancellor of the Exchequer Philip Hammond, Secretary of State for Business Greg Clark, Secretary of State for International Trade Liam Fox, and UK National Security Adviser Mark Sedwill each visited China. These comprehensive exchanges among the heads of core departments of the two countries paved the way for PM Theresa May's first visit to China.
Chinese ambassador to the UK Liu Xiaoming, and the UK ambassador to China Barbara Woodward have each held a series of dialogues and public diplomatic events too, which all have released positive messages of the friendship between China-UK exchanges.
Theresa May, who used to be inactive on social media, changed her ways during her visit to China, posting three tweets in a row on her personal twitter account just in the half day she spent in Wuhan. In total, 14 tweets were released through her personal account and the official PM account in the first two days of her visit, in which she noted the highlights of her visit.
Richard Graham, chairman of the all-party parliamentary China group, who accompanied former Prime Minister David Cameron to China, is one of the members of the delegation this time too. He wrote in an article published in the Times that "May's visit should strengthen links between Britain and an increasingly global China. "
Under the strategic guidance of the two leaders, a new "Golden Era" in China-UK relations is about to begin.
Enhanced Dual-directional Drivers
China has become one of the most rapid growing import markets of British goods.
According to data from China's Ministry of Commerce, China's exports to the UK in 2017 reached 56.7 billion USD, with year-on-year growth of 1.8%, while imports from the UK rose to 22.3 billion USD, with a growth rate of 19.4%.
By the end of 2017, the accumulated direct investment of the UK to China was 22.5 billion USD, which made it the second largest investor to China in the European Union (EU). In addition, the UK is also the second largest recipient of Chinese investment among EU nations, to which the volume of non-financial direct investment has reached 19.1 billion USD.
China and the UK also made excellent progress in promoting cooperation on the Belt and Road.
The UK is not only an active supporter of the Belt and Road Initiative, but also a genuine and active forerunner. Chancellor of the Exchequer Hammond once stated that the UK is a "natural partner " of the Belt and Road Initiative, and emphasized that "as China drives forward the Belt and Road initiative from the East, we in Britain are a natural partner in the West, standing ready to work with all partner countries to make a success of this initiative. "
The British government announced an investment of 50 million USD to the Asian Infrastructure Investment Bank (AIIB) project preparation special fund in December 2017. Business circles in the UK have shown great enthusiasm for this project. By 2017, Standard Chartered Bank, whose headquarters are in London, had been involved in more than 50 deals related to the Belt and Road Initiative.
During Theresa May's visit, China Development Bank signed a memorandum of understanding for a credit extension loan to the Belt and Road Initiative of 10 billion RMB with Standard Chartered Bank. Premier Li Keqiang also noted that China will further open up its market in agricultural products and financial services to the UK.
Broader Cooperation
Closing trade and investment deals is the basis of promoting exchanges between countries, but China-UK relations do not solely rely on "doing business".
This time round, in addition to securing major deals worth 9 billion pounds, China and UK also focused on "great people-to-people cooperation".
China has become the biggest source of overseas students in the UK, with a total number of 155,000. They bring annual revenues of 5 billion pounds to the UK education industry. China has become the main driver of the UK's education exports.
An agreement on China-UK education worth more than 550 million pounds was signed by Theresa May in Wuhan, which is likely to create 800 posts in the UK.
PM Theresa May stated that the newly signed agreement will "continue to develop the bonds of friendship that we value, and the bonds of friendship on which our golden era of UK-China relations are built, bringing our people closer together not just now, but for years to come in the future."
New moves including investment in the Xiongan Financial and Technology Park and Qingdao Innovation Industry Park provide evidence that China-UK cooperation in high-end technology is increasing.
More Opening Up
Against a backdrop of global change, the UK is now facing a post-Brexit challenge of significant uncertainty in national development. However, the strategic guidelines of China-UK relations add security and stability to cooperation between the two countries.
In trade and investment, for example, the two countries have decided to launch a new assessment system on trade and investment relations, which will lay a solid foundation for China-UK trade relations in the post-Brexit era, and allow both parties to seek out further possibilities in the future.
President Xi Jinping used an appropriate quotation from Shakespeare: "What's past is prologue ", and Prime Minister May also stated that "our agenda will not be delivered in one visit; it must be our shared objective over the coming years."
Yang Fang, Associate researcher, Institutes of European Studies, China Institutes of Contemporary International Relations