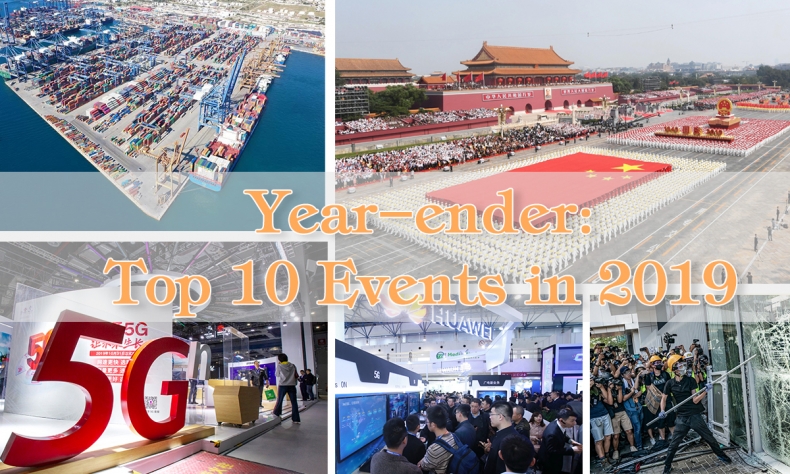 Year-ender: Top 10 Events Shaping China and Her Relations with the World in 2019
As we sign off 2019 and welcome a new decade, China Focus looks back at ten major events that shaped China and the rest of the world over the past year.
Editor's Note: 2019 is nearly at a close, bringing an end to another turbulent 12 months. Tangled trade disputes, a slowing global economy, political uncertainty and worldwide protests have dominated the past year, making it one of the most extraordinary in living memory. As we sign off 2019 and welcome a new decade, China Focus looks back at ten major events that shaped China and the rest of the world over the past year.
President Xi's diplomacy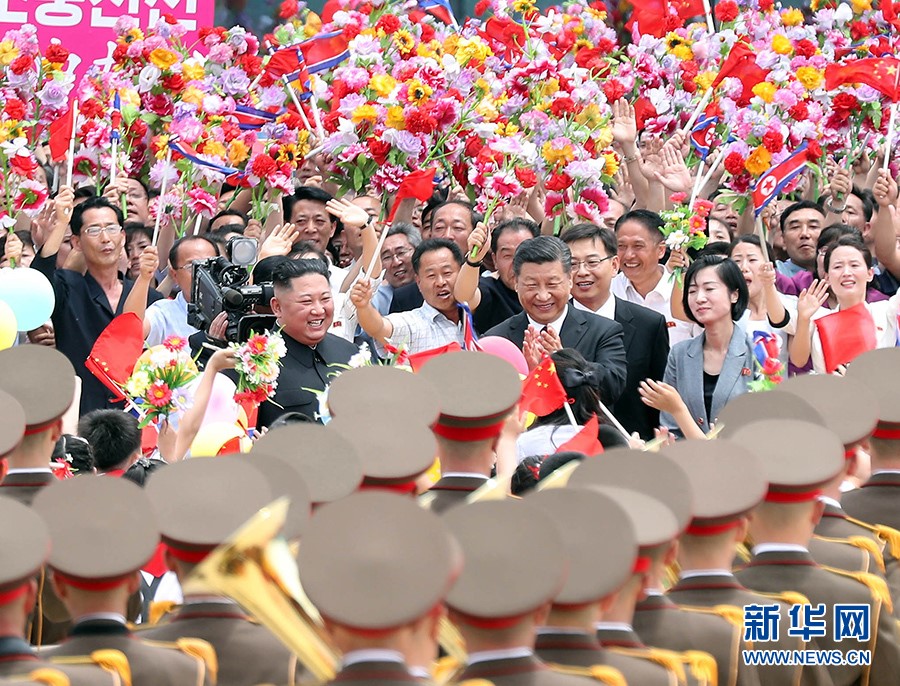 2019 was a busy year for Chinese President Xi Jinping. His first trips abroad in 2019 were to Italy, Monaco and France where he discussed China's relationship with EU and welcomed Italy and Monaco into the Belt and Road Initiative.
However, the year's highlight was his visit to the Democratic People's Republic of Korea (DPRK). For the last two years, especially since US President Donald Trump's tweet threat against DPRK's leader Kim Jong-un, things haven't run smooth in the region. As a responsible country that wants to bring peace to the world, Xi's visit to DPRK was very assuring. In their meeting, Kim Jong-un stated that DPRK will safeguard peace and stability in the Korean peninsula along with China.  In the coming 2020, Chinese President Xi will continue to bring peace and joint development to the world.
The 70th anniversary of PRC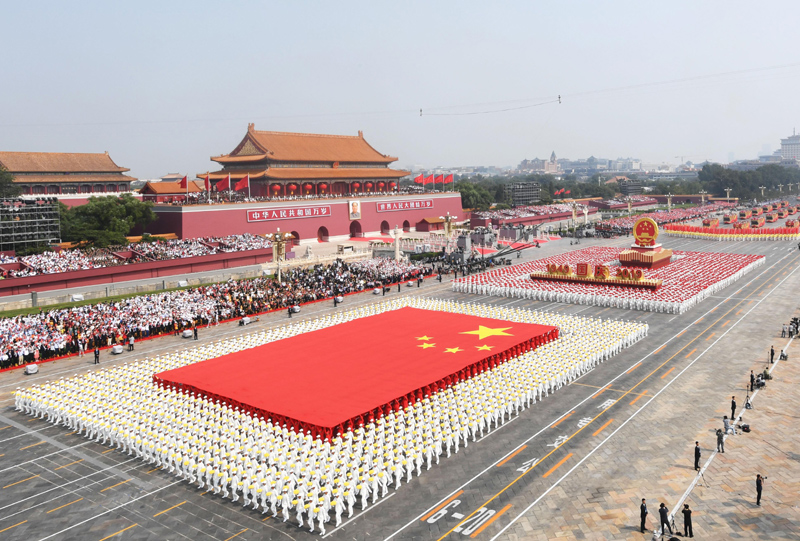 The year of 2019 marks the 70th anniversary of the founding of the People's Republic of China (PRC). Celebrations were held to commemorate a number of China's longest standing diplomatic relations including 70 years of relations with Russia and forty years with the United States of America. But by far the biggest celebrations were held for the 70th anniversary of the People's Republic of China.
Since 1949, the country has transformed beyond recognition. Monstrous economic growth, colossal infrastructure projects and substantial trade relations with virtually every country in the world has seen China rise from poverty to a nation with the world's second largest economy and a moderately prosperous society.  Celebrations full of pageantry and aplomb began on October 1 with a grand military procession parading past Tiananmen Square, showcasing 580 pieces of sophisticated military equipment. In the evening, an extravagant gala showcasing music and performances from China's all ethnic groups entertained thousands, before a spectacular firework display lit up the night sky and welcomed a new chapter in China's long and eventful history.
China-US trade tensions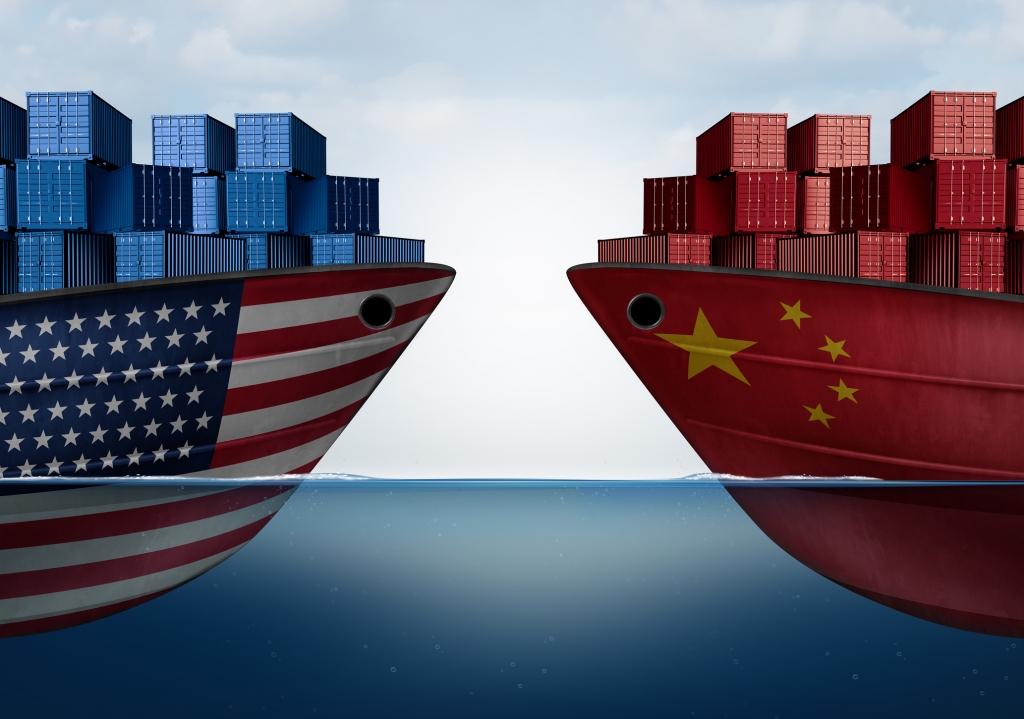 One of the most talked-about events of this year has undoubtedly been the ups-and-downs of the tumultuous China-US trade dispute.
Over the course of 2019, representatives from China and the US engaged in no-less than nine rounds of high-level trade talks. The lowest point came after the break-down in talks in April, and which set-off a succession of tit-for-tat tariff exchanges – lasting for most of the year.
In the latest round of trade negotiations however, considerable progress between Beijing and Washington was made, and the two sides are now close to signing and implementing the "Phase One" deal.
China's Ministry of Foreign Affairs recently released a statement regarding its intentions for the coming year with regards to the United States. "China hopes, on the basis of equality and mutual respect, to work with the United States, to properly resolve each other's core concerns and promote the stable development of US-China economic and trade relations" the report read.
The Belt and Road Initiative attracts more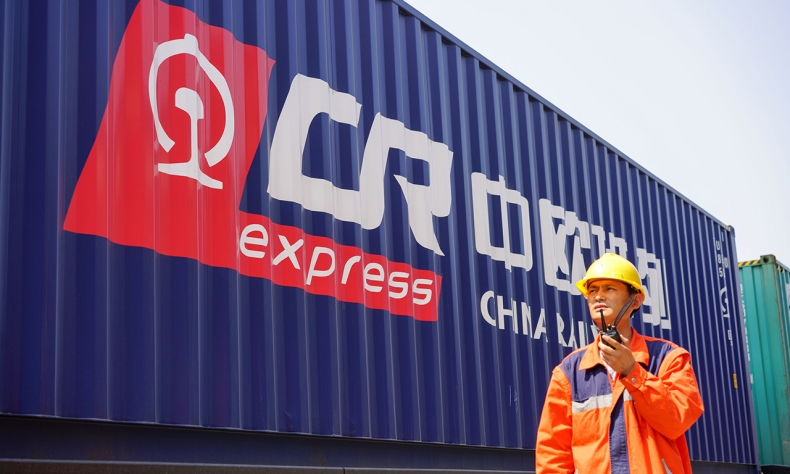 The Belt and Road Initiative (BRI), China's initiative for shared destiny of mankind, made a number of key inroads in 2019. Memorandums of Understanding were signed with Switzerland, Austria, Luxemburg, Jamaica and Italy, swelling the number of countries and organizations who've signed cooperation agreements with China on the project to 153. BRI continued to address the global need for infrastructure, with projects such as the Jakarta-Bandung high-speed rail in Indonesia, Gwadar port in Pakistan and the Temburong Bridge in Brunei all progressing well. The Europe-China Freight Train, which links 56 Chinese cities with 46 cities in 15 European Countries, reached a record milestone having completed over 14,000 journeys since its inaugural trip in 2014.
The future of BRI—now in its sixth year—was also secured after discussions at the Second Belt and Road Forum in Beijing. Members of the initiative, including Secretary-General António Guterres of the United Nations, signed a joint communique committing themselves to an  open, green and clean  BRI, and reaffirming the principles of "win-win" cooperation that has typified the project.
Huawei in spotlight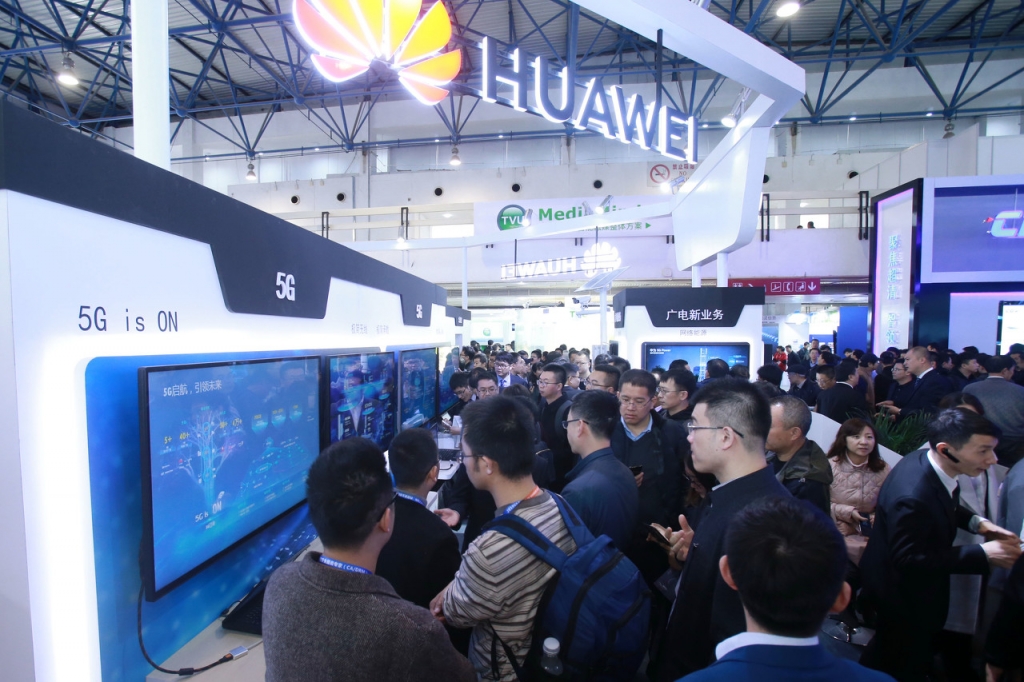 Huawei experienced global exposure in December 2018 when its CFO Meng Wanzhou was arrested by Canadian police. Five months later, the United States announced it had listed Huawei and other tech-related companies as "entities under export control", an act widely regarded as another strategy in the on-going China-US trade war.
Despite this, Huawei's founder and CEO Ren Zhengfei emphasized that entering the US market wasn't significant because even without it, "we are still the number one in the world." During the 2019 G20 Osaka summit, US President Donald Trump announced the lifting of Huawei's ban on low-end chips but did not remove Huawei from the "Entity List". Consistent pressure from the US may have put Huawei through struggles but with the development of its own chips, terminals, cloud services and networks, Huawei will prevail.
China's growing tech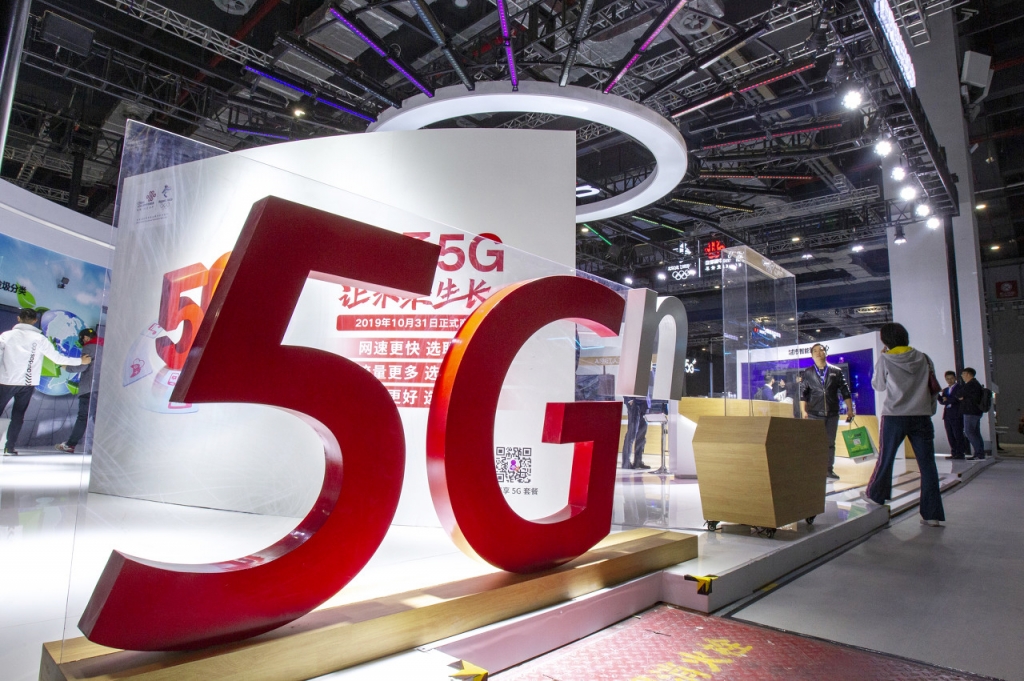 2019 has been another big year for China's development of science and technology. This year, China has made big strides in the development of Artificial Intelligence (AI) and  5G which it showcased at respective conventions held in Shanghai and Beijing.
China is now home to the most billion-dollar start-up companies – otherwise known as "unicorns" – in the world. A new study released by Hurun Research Institute titled "Global Unicorn List 2019", finds that China has overtaken the United States in the creation of high-tech billion-dollar start-ups.
By the third quarter of 2019, data revealed that China houses 206 of the world's 494 unicorns – and is also home to the fastest growing and most valuable unicorns in the world.
As part of China's pivot towards high-quality sustainable growth – it has given considerable attention to the so-called 'Big 5 industries' – E-commerce, FinTech, Cloud, Artificial Intelligence, and Logistics – which are widely considered to be initiating the Fourth Industrial Revolution and hold the key to the future."
Hong Kong chaos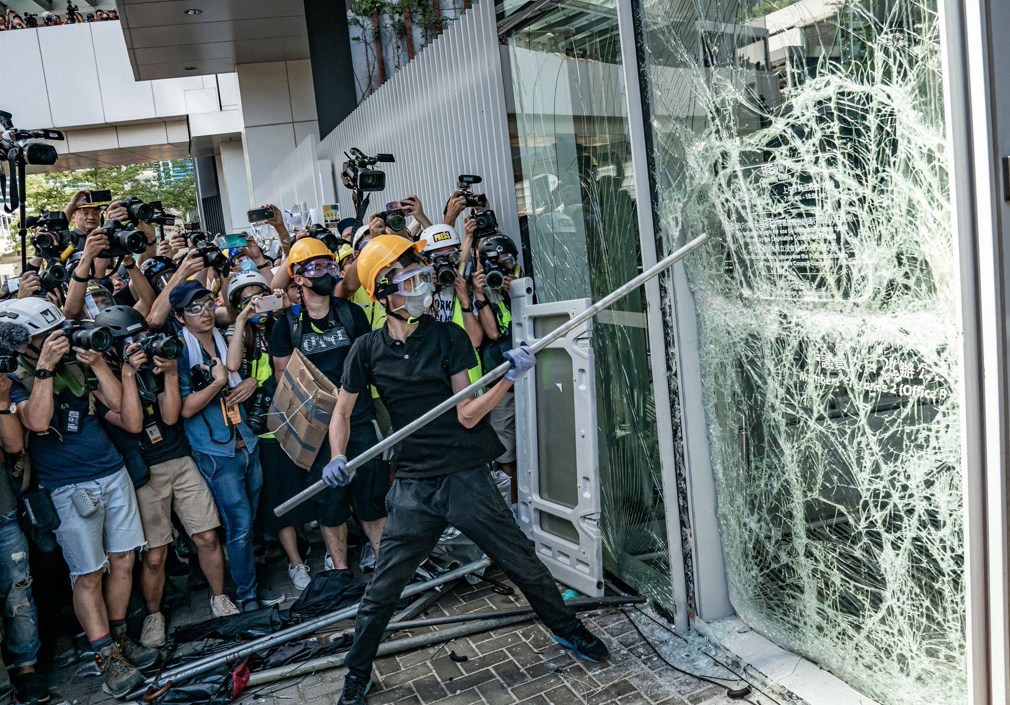 The unrest witnessed in Hong Kong has been one of the more regrettable developments of 2019. Beginning in June, protesters began demonstrating over the now-withdrawn Hong Kong extradition bill. Whilst the protests have significantly diminished in size over the course of the year, there remains small pockets of radical violent factions which have become emboldened by the support of foreign actors.
China has repeatedly warned against outside interference and denounced Washington's passage of the so-called Hong Kong Human Rights and Democracy Bill which is an infringement into China's domestic affairs.
China has also expressed regret over some Western media's one-sided and misleading coverage concerning Hong Kong.
Indeed, analysts identified a clear double standard at play by many of the reputable news organizations in the West, who did little to condemn the rioters who used violence and attacks, including burning public buildings, shops and attacking the civilians.
Hong Kong's period of unrest has shaken business and consumer confidence and as a result to the innovative financial hub slipped in to recession during the fourth quarter of 2019.
China's fast advancing business environment ranking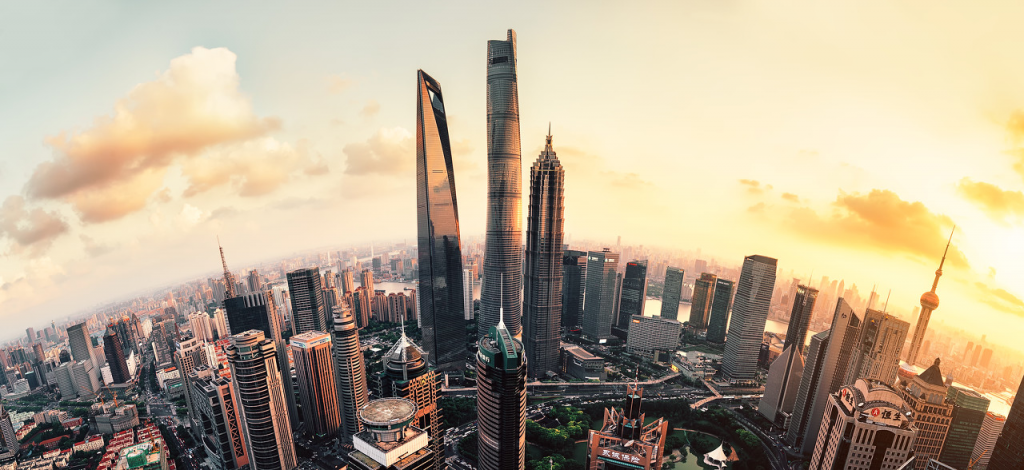 China's business environment continued to improve in 2019, with its Ease of Doing Business ranking rising to 31st in the world.
Changes were made to improve the registering of patents, protection of intellectual property rights and the practice of processing trademarks, along with a new Foreign Investment Law which when implemented on January 1, 2020, will create a fairer and more transparent system for foreign businesses operating in China.
China's reputation as an innovative hub for business continued to grow, with the country harvesting more billion dollar start-ups than any other country according to wealth research firm Hurun. Cities such as Shanghai, Beijing and Shenzhen cemented their positions as top destinations for investment, with net increases in venture capitalism and the hosting of international business gatherings such as the China International Import Expo.
Shanghai, with the creation of its own Nasdaq-style STAR Market and the launch of a successful link with the London Stock-Exchange, has grown to become China's best city for business, according to four prominent Chinese think tanks. With reforms aimed at "promoting modernization of the country's governance system and governance capacity" expected to provide a level and predictable playing field for competitive companies, expect further improvements to China's business environment in 2020.
Poverty alleviation efforts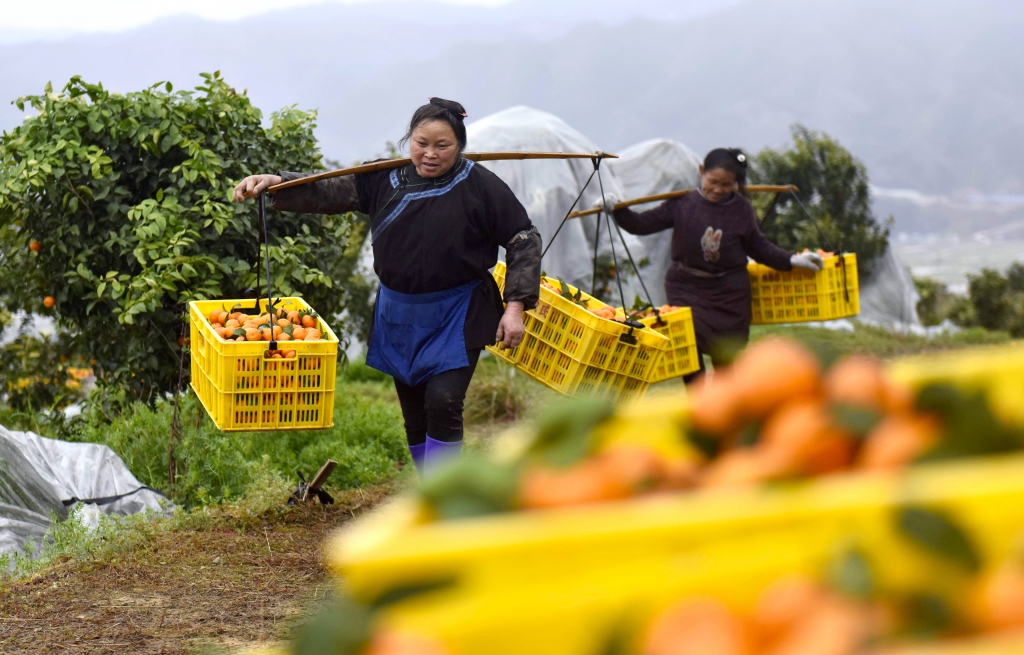 The year of 2019 is the crucial year for China to fight against poverty before the country achieve the goal to lift all people out of poverty in 2020. China's approach to development over this period has built up the country to become the world's second largest economy and the largest contributor to global economic growth. As the world's most populated country, China, which could barely feed its people 70 years ago, has made historic achievements in poverty alleviation through various welfare schemes while offering Chinese wisdom and solutions to global poverty reduction.
From 1978 to 2018, the number of impoverished people in the country dropped from 770 million to 16.6 million, and the poverty rate from 97.5 to 1.7 percent. China's Tibet Autonomous Region has eliminated absolute poverty and the whole region lifted itself out of poverty, local authority announced on December 23, 2019.
In doing so, China has written a new chapter in humanity's fight against poverty. It was the first developing nation to achieve the targets set for hunger and poverty-free society under the UN Millennium Development goals. Also, the willingness of the country to share its experiences with the international community will offer opportunities for other developing nations to learn and uplift their people out of poverty. China's experiments with poverty alleviation continue. In 2020, China will put an end to absolute poverty.
Mega-airport spreading its wings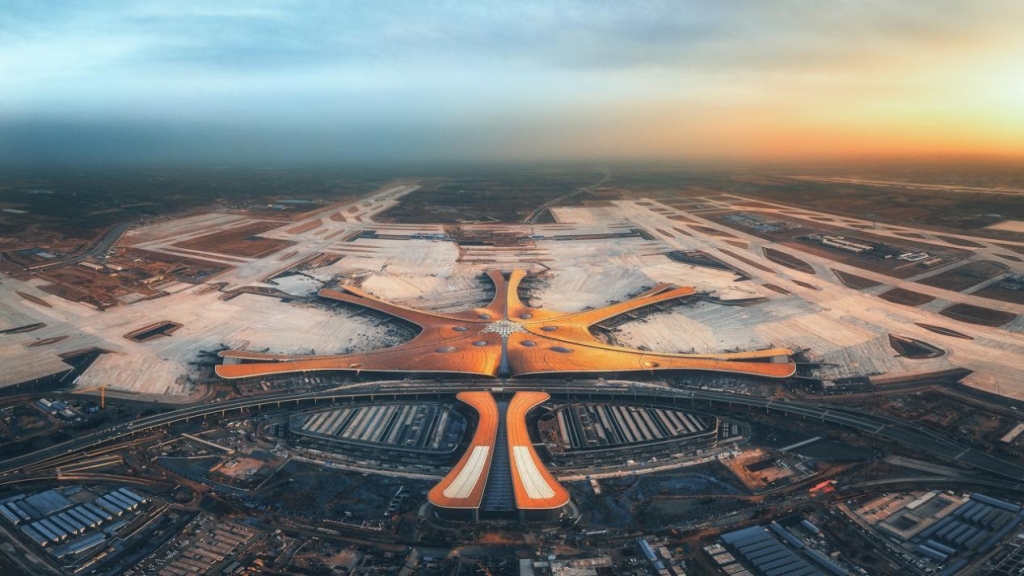 Hello Daxing! Beijing's new mega-airport, Daxing International Airport, opened to the public on September 25, welcoming its first passengers after five years of construction. The airport, located 46 km south of downtown Beijing, is designed to alleviate the pressure on Beijing Capital International Airport in the city's northeastern suburbs. It is expected to handle 45 million passengers annually by 2021 and 72 million by 2025. The new aviation hub is shaped like a phoenix spreading its wings. It only takes a passenger eight minutes to walk from the center of the terminal building to the furthest departure gate.
As the Guardian said, Beijing Daxing International Airport is just the latest megaproject that has seen China pour more concrete every two years than the US did in the entire 20th century. The new airport emerges as a pivotal air traffic hub for international travel to and from China as the country is poised to become the world's largest civil aviation market around the mid-2020s. According to the Daxing airport authority, 66 airlines have applied to operate at the airport. Among them, 20 are domestic airlines and 46 overseas ones. The airport will operate 116 routes connecting to 112 destinations globally around the end of this year.